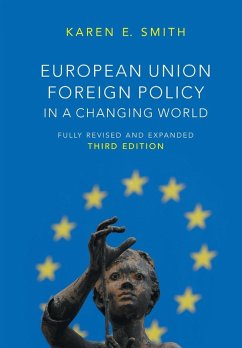 Andere Kunden interessierten sich
auch
für


* The encouragement of regional cooperation
* The advancement of human rights
* The promotion of democracy and good governance
* The prevention of violent conflicts
* The fight against international crime, including terrorism
The book shows how the EU must grapple with acute policy dilemmas because the five objectives not only clash with each other, but also with other policy priorities. The Lisbon Treaty may have resolved some of the difficulties of making sound EU foreign policy but, the book contends, coherence remains an ongoing problem. It also explores the challenges the EU faces in achieving its objectives in a multipolar world, against the backdrop of a euro crisis which has damaged the EU's international standing and drained attention and resources away from foreign policy-making.

This accessible and thoroughly researched book will be a valuable resource for undergraduate and postgraduate students of European politics, foreign policy analysis, international relations and related disciplines.
"Smith delivers an outstanding new edition, which accounts for more recent developments, such as the Lisbon Treaty. Adhering to a thematic structure, the book is unique in its in-depth analysis of a selection of some of the most important aspects of EU foreign policy."
George Kyris, University of Warwick
"Karen Smith's book has rightly established itself as a key text. The enduring strength of the book through its multiple editions is its comprehensive and interlocking assessment of all strands of the EU's engagement with international relations. It has yet to be bettered as a sophisticated analysis of European foreign policy that is both suitable for newcomers to the subject while also offering cogent insight to experienced analysts."
Richard G. Whitman, University of Kent