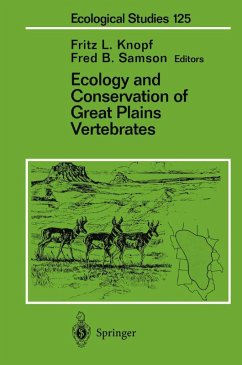 Produktdetails
Ecological Studies Vol.125
Verlag: Springer, Berlin
1996.
Seitenzahl: 340
Erscheinungstermin: 13. Dezember 1996
Englisch
Abmessung: 235mm x 155mm x 24mm
Gewicht: 626g
ISBN-13: 9780387948027
ISBN-10: 0387948023
Artikelnr.: 06882123
Section 1. The Great Plains Landscape as Vertebrate Habitats.- 1. Landscape Gradients and Habitat Structure in Native Grasslands of the Central Great Plains.- 2. Wetlands of the Great Plains: Habitat Characteristics and Vertebrate Aggregations.- 3. Water Management and Cottonwood Forest Dynamics Along Prairie Streams.- 4. Comparative Ecology of Native and Introduced Ungulates.- Section 2. Ecology of Vertebrate Assemblages Within Grassland Landscapes.- 5. Historical Changes in the Landscape and Vertebrate Diversity of North Central Nebraska.- 6. Ecology of Fishes Indigenous to the Central and Southwestern Great Plains.- 7. Avian Community Responses to Fire, Grazing, and Drought in the Tallgrass Prairie.- 8. Effects of Fire on Bird Populations in Mixed-Grass Prairie.- 9. Ecology of Small Mammals in Prairie Landscapes.- 10. Stopover Ecology of Transitory Populations: The Case of Migrant Shorebirds.- Section 3. Conclusion.- 11. Conservation of Grassland Vertebrates.