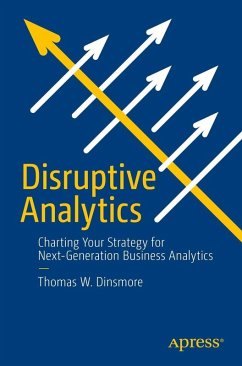 Enterprises who seize the opportunity will thrive and prosper, while others struggle and decline: disrupt or be disrupted.
Disruptive Business Analytics
provides strategies to profit from disruption. It shows you how to organize for insight, build and provision an open source stack, how to practice lean data warehousing, and how to assimilate disruptive innovations into an organization.
Through a short history of business analytics and a detailed survey of products and services, analytics authority Thomas W. Dinsmore provides a practical explanation of the most compelling innovations available today.
What You'll Learn
Discover how the open source business model works and how to make it work for you
See how cloud computing completely changes the economics of analytics
Harness the power of Hadoop and its ecosystem
Find out why Apache Spark is everywhere
Discover the potential of streaming and real-time analytics
Learn what Deep Learning can do and why it matters
See how self-service analytics can change the way organizations do business
Who This Book Is For


Corporate actors at all levels of responsibility for analytics: analysts, CIOs, CTOs, strategic decision makers, managers, systems architects, technical marketers, product developers, IT personnel, and consultants.


---
Dieser Download kann aus rechtlichen Gründen nur mit Rechnungsadresse in A, B, BG, CY, CZ, D, DK, EW, E, FIN, F, GB, GR, HR, H, IRL, I, LT, L, LR, M, NL, PL, P, R, S, SLO, SK ausgeliefert werden.
Produktdetails
Verlag: Springer-Verlag GmbH
Erscheinungstermin: 27.08.2016
Englisch
ISBN-13: 9781484213117
Artikelnr.: 46923020
Chapter 1. The Engines of Disruptiono Business Models§ Open Source§ Cloudo Technology§ Cheap Hardware: Memory, Storage, and Chips§ Distributed Computing§ MapReduce/HDFS§ Resilient Distributed Datasets§ VizQLPART I. Innovations in Business AnalyticsChapter 2. The Analytic Database Matureso MPP Databaseso Columnar Databaseso In-Memory Databaseso The Data Warehouse ApplianceChapter 3. The Hadoop Ecosystemo Hadoop 1.0o Hadoop 2.0o NoSQLo SQL on HadoopChapter 4. Open Source Analyticso Analytic Languages§ R§ Julia§ Python§ Scalao Analytic Platforms§ Mahout§ MADLib§ H2O§ SparkChapter 5. Data in the Cloudo Google for the Common Mano Evolution of Data in the Cloudo Cloud Platforms§ AWS§ Microsoft Azure§ Qubole§ Google Cloud§ IBM Cloudo Analytics in the Cloud§ AWS Marketplace§ Amazon Machine Learning§ Azure Machine Learning§ Google BigQuery§ IBM Watson§ StartupsChapter 6. Real-Time and Streaming Engineso Preparing for IoTo Stream vs. Batcho Stream Pipelineso Open Source Projects§ Kafka§ Storm§ Spark Streaming§ Flume§ Millwheelo Commercial Products§ IBM InfoSphere Streams§ AWS KinesisChapter 7. The New Machine Learningo Ensemble Modelso Neural Networks and Deep Learningo Bayesian Techniqueso Graph Analyticso Topic Modelingo Topological Data Analysiso Automated LearningChapter 8. Disrupting the Last Mileo Tableau and Qliko BI on Hadoopo Prediction for the Business UserPART II. Harnessing the New TechnologiesChapter 9. Beyond GIGO: Developing a Data Strategyo What Is a Data Strategy?o Data and Metadata Managemento Keeping It Clean UpstreamChapter 10. Data Lakes, Reservoirs, and Swampso The Hybrid/Extended Data Warehouse in Practiceo Avoiding the Swampo Evolving into the Application CloudChapter 11. Architecting for the Cloudo When the Cloud Makes Senseo Locality, Elasticity, Agility, and Scaleo Data SecurityChapter 12. Lambda Architectureo Putting It All Together: Batch + Stream = Real-Time Analyticso Design Patternso Pros, Cons, and AlternativesChapter 13. Agile Analytics: Data to Insighto Accelerating Time to Valueo Minimum Viable Modelo Leveraging Kaizen Continual Improvement ProcessesChapter 14. Disruptive Analytics at Work: Case StudiesChapter 15. Predictions for Predictive Analytics