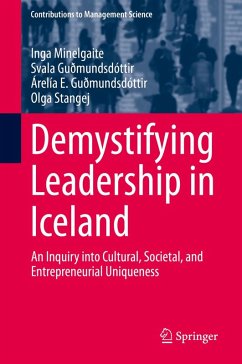 Produktdetails
Erscheinungstermin: 28.09.2018
Englisch
ISBN-13: 9783319960449
Artikelnr.: 54145766
Part I. Leadership and Culture.- Introduction.- Societal Culture in Iceland: From the Past to the Present.- Leadership in Iceland: A Historical Context.- Organizational Culture in Iceland: Welcoming the Uncertainty.- Beyond the Daily Catch: Expected Leader Profile in Iceland.- Part II. Transforming Leadership: An Entrepreneurial Perspective.- Small, but Mighty: Icelandic Business Environment Before and After the Financial Crisis of 2008.- Born to Enterprise? Entrepreneurial Intent Among Icelanders.- What's Next? From Tourism Bubble to the Future of Business Leadership in Iceland.- Part III. Transforming Leadership: Gender Issues.- Gender and Leadership in Iceland: The Journey to the Top of the Global Gender Gap Index.- Before and After: Effect of Gender Quota on Icelandic Landscape of the Boards of Directors.- The Untold Story of Gender Quota Effects in Iceland.- Part IV. Leadership in Action: Specific Cases.- Moving Icelandic Companies Global Through Visionary Leadership: The Case of Alvogen.- A Comedian Who Changed the Leadership Script in Reykjavik: The Case of Jón Gnarr.- Navigating Leadership in the Fishing Industry: the Case of Iceland.- Sports Leadership and the Biggest Small Nation in the World.