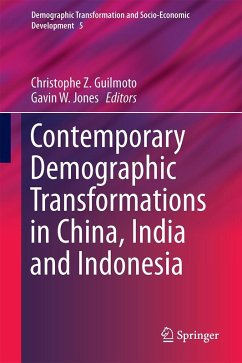 Andere Kunden interessierten sich
auch
für

The chapters present a detailed investigation and mapping of regional trends in mortality, fertility, migration and urbanization, education, and aging. Throughout, the analysis carefully considers how these trends affect economic and social development. Coverage also raises global, theoretical questions about the singular ways in which each of these three countries have achieved their demographic transition.
As the authors reveal, demographic trends seem to be somewhat linear and anticipatable, providing Asia's three demographic giants and their governments a formidable advantage in planning for the future. But the evolution of human mobility in China, India, and Indonesia, closely intertwined as it is with changing economic conditions, appears less predictable and ranks high among the major challenges to demographic knowledge in the coming decades.
Offering an insightful look into the components, implications, and regional variations of a changing population, this book will appeal to social scientists, demographers, anthropologists, sociologists, epidemiologists, and specialists in Asian studies.
Produktdetails
Demographic Transformation and Socio-Economic Development 5
Artikelnr. des Verlages: 978-3-319-24781-6
1st ed. 2016
Seitenzahl: 360
Erscheinungstermin: 18. Dezember 2015
Englisch
Abmessung: 241mm x 160mm x 25mm
Gewicht: 680g
ISBN-13: 9783319247816
ISBN-10: 3319247816
Artikelnr.: 43573622
Chapter 1 THE THREE DEMOGRAPHIC GIANTS Christophe Z. Guilmoto and Gavin W. Jones Part I: Mortality Chapter 2 RECENT MORTALITY TRENDS IN CHINA Zhongwei Zhao, Wei Chen and Yongai Jin Chapter 3 TRENDS IN MORTALITY DIFFERENTIALS IN INDIA Nandita Saikia Chapter 4 MORTALITY TRENDS IN INDONESIA Soeharsono Soemantri and Tien Afifa Chapter 5 MORTALITY SECTION - OVERVIEW Christophe Z. GuilmotoPart II: Fertility Chapter 6 UNDERSTANDING FERTILITY TRENDS IN CHINA Zhigang Guo Chapter 7 THE PAST AND FUTURE OF FERTILITY CHANGE IN INDIA Christophe Z. Guilmoto Chapter 8 INDONESIA'S FERTILITY LEVELS, TRENDS AND DETERMINANTS: DILEMMAS OF ANALYSIS Terence Hull Chapter 9 FERTILITY SECTION - OVERVIEW Christophe Z. Guilmoto Part III: Education Chapter 10 EDUCATIONAL EXPANSION IN CHINA: EVIDENCE FROM THE 2010 CENSUS Zhao Litao Chapter 11 EDUCATION TRENDS IN INDIA: RECENT CENSUS RESULTS IN CONTEXT 1 Bilal Barakat Chapter 12 EDUCATION IN INDONESIA: TRENDS, DIFFERENTIALS, AND IMPLICATIONS FOR DEVELOPMENT Gavin Jones and Devanto Pratomo Chapter 13 EDUCATION SECTION - OVERVIEW Divya Ramchand Part IV: Migration Chapter 14 INTERNAL MIGRATION IN CHINA: CHANGES AND TRENDS Zhenzhen Zheng and Ge Yang Chapter 15 CHANGING PATTERN OF INTERNAL MIGRATION IN INDIA Ram B. Bhagat Chapter 16 DEMOGRAPHIC PATTERNS OF INDONESIA'S URBANIZATION, 2000-2010: CONTINUITY AND CHANGE AT THE MACRO LEVEL Tommy Firman Chapter 17 MIGRATION AND URBANIZATION SECTION - OVERVIEW Gavin W. Jones Part V: Aging Chapter 18 POPULATION AGING IN CHINA: A SKETCH Baochang Gu Chapter 19 PERSPECTIVES ON OLD AGE IN INDIA Premchand Dommaraju Chapter 20 THE PAST THREE POPULATION CENSUSES: A DEEPENING AGEING POPULATION IN INDONESIA Evi Nurvidya Arifin and Aris Ananta Chapter 21 AGEING SECTION - OVERVIEW Gavin W. Jones Chapter 22 OBSERVATIONS ON POPULATION CHANGE AND HUMAN CAPITAL IN ASIA'S DEMOGRAPHIC GIANTS Geoffrey McNicoll