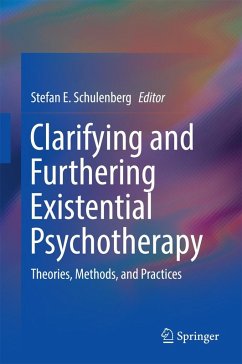 Andere Kunden interessierten sich
auch
für


Chapters review the evidence for its therapeutic value, and provide updates on education, training, and research efforts in the field, both in the US and abroad. Throughout, existential psychotherapy emerges as a vital, flexible, and empirically sound modality in keeping with the current-and future-promotion of psychological well-being.
Produktdetails
SpringerBriefs in Psychology
Verlag: Springer / Springer, Berlin
Artikelnr. des Verlages: 978-3-319-31085-5
1st ed. 2016
Seitenzahl: 176
Erscheinungstermin: 4. Oktober 2016
Englisch
Abmessung: 241mm x 160mm x 15mm
ISBN-13: 9783319310855
ISBN-10: 3319310852
Artikelnr.: 44519034
Clarifying and Furthering Existential Psychotherapy: Introduction.- Existential Psychotherapy: An International Survey of the Key Authors and Texts Influencing Practice.- Emotion, Relationship, and Meaning as Core Existential Practice:
Evidence-Based Foundations.- The Case for Existential (Spiritual) Psychotherapy.- Engaged Understanding for Lived Meaning.- Meaning-Centered Psychotherapy: A Socratic Clinical Practice.- Experience Processing as an Aspect of Existential Psychotherapy: Life Enhancement Methodology.- Structural Existential Analysis (SEA): A phenomenological method for therapeutic work.- Existential Psychotherapy The Genetic-Phenomenological Approach: Beyond a Dichotomy Between Relating and Skills.- Experiencing Change: An Existential Perspective.- Creating the World Congress for Existential Therapy.