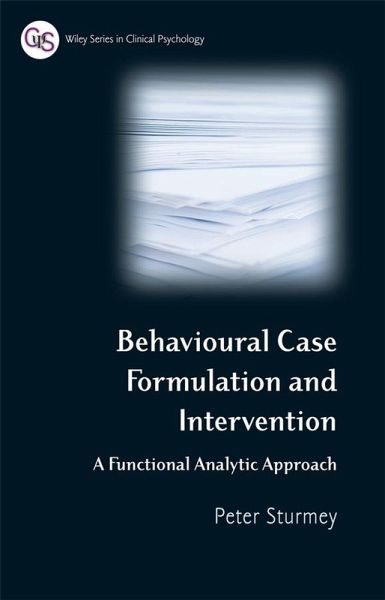 Behavioural Case Formulation and Intervention in Clinical Psychology: A Functional Analytic Approach provides a complete update on developments in functional analysis over the last 10 years. Applying a behavioral approach to case formulation, this volume contains three sections: Conceptual Foundations, Applications with Specific Problems, and Assessment and Case Formulation. This useful reference includes a chapter on treatment, and provides examples from many different clinical problems.
---
There is a long history of behavioral approaches to psychopathology, however recent work on case formulation has focused on cognitive, psychodynamic and integrative approaches. Behavioral Case Formulation redresses the imbalance by describing radical behaviorism and its approach to the conceptualization, case formulation and treatment of psychopathology. Behavioral Case Formulation provides a consistent and coherent approach to case formulation: * It describes the conceptual foundations of functional approaches to case formulation and intervention; * Reviews the literature on functional analysis applied to abnormal and other behavior; * Provides an update on advancements during the past 10 years; * Explains the technology and application of behavioral assessment, case formulation and hypothesis-driven intervention; * Identifies outstanding and conceptual and practical problems within this framework. This is an informative, must-have text for psychologists, psychotherapists, counsellors and other clinicians, as well as students in related subject areas.
Produktdetails
Wiley Series in Clinical Psychology
Verlag: Wiley & Sons
Seitenzahl: 328
2008
Ausstattung/Bilder: 1. Auflage. 2008. 320 p. 236 mm
Englisch
Abmessung: 235mm x 152mm x 24mm
Gewicht: 630g
ISBN-13: 9780470018897
ISBN-10: 0470018895
Best.Nr.: 20931074
About the Author.
Preface.
Acknowledgements.
PART I: BEHAVIORISM AND BASIC LEARNING CONCEPTS.
Chapter 1: Structural and Functional Approaches to Case Formulation.
Chapter 2: Radical Behaviorism.
Chapter 3: Respondent Behavior.
Chapter 4: Operant Behavior I. Characteristics, Acquisition and Stimulus Control.
Chapter 5: Operant Behavior II. Satiation and Deprivation, Extinction, Shaping, Variability and Punishment.
Chapter 6: Complex Behavior I. Modeling, Chaining and Self-regulation
Chapter 7: Complex Behavior II. Rule Governed Behavior, Stimulus Equivalence and Verbal Behavior.
PART II: CASE FORMULATION.
Chapter 8: Non-behavioral approaches to case formulation.
Chapter 9: Wolpe's Tradition of Case Formulation.
Chapter 10: Skinner and Psychotherapy.
Chapter 11: Behavioral Case Formulation.
Chapter 12: Behavioral Assessment.
Chapter 13: Outstanding Issues and Future Directions.
References.
Index.
I would recommend this book to students of psychology, psychologists, psychology departments located in university and hospital settings, libraries in university and hospital settings, psychiatrists, social workers and health behavior departments in university settings. (Drug and Alcohol Review , September 2009)