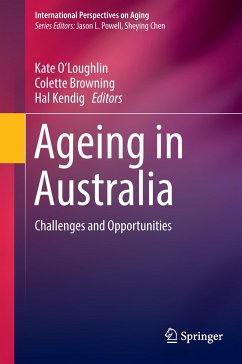 Andere Kunden interessierten sich
auch
für


Included in the coverage:

· Australian developments in ageing: issues and history.

· Cultural diversity, health, and ageing.

· Indigenous Australians and ageing: responding to diversity in policy and practice.

· Enhancing the health and employment participation of older workers.

· Housing and the environments of ageing.

· Health services and care for older people.

The rich examples in Ageing in Australia contain a depth of understanding and evidence for sociologists, gerontologists and psychologists studying ageing, health care professionals providing care to older people, and policy analysts assessing areas for improvement.


Produktdetails
International Perspectives on Aging 16
Artikelnr. des Verlages: 978-1-4939-6464-2
1st ed. 2017
Erscheinungstermin: Januar 2017
Englisch
Abmessung: 241mm x 160mm x 22mm
ISBN-13: 9781493964642
ISBN-10: 149396464X
Artikelnr.: 45125443
1: Introduction: Challenges and Opportunities.- 2: Population Aging/Demographic change.- 3: Health and Aging.- 4: Cultural diversity and aging.- 5: Indigenous Australians and Aging.- 6: Employment and older people.- 7: Attitudes to Aging.- 8: Health policy and aging.- 9: Aging and Health Services.- 10: Retirement Income.- 11: Environments of Aging.- 12: Transport Options for Older People.- 13: Politics and Advocacy for Older Australians.- 14: Aged Care: Service Delivery and Practice.- 15: Directions and Choices for the Future.