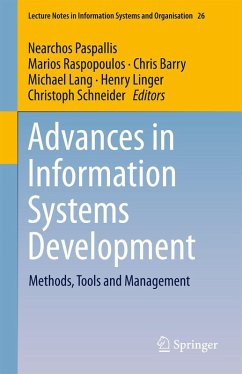 Andere Kunden interessierten sich
auch
für


The book draws on selected invited papers from the 26th International Conference on Information Systems Development (ISD) held in Larnaca, Cyprus, September 6 - 8, 2017. The revised and expanded papers present research that focuses on methods, tools and management in information systems development. These issues are significant as they provide the basis for organizations to identify new markets, support innovative technology deployment, and enable mobile applications to detect, sense, interpret and respond to the environment.

Produktdetails
Lecture Notes in Information Systems and Organisation 26
Artikelnr. des Verlages: 978-3-319-74816-0
1st ed. 2018
Erscheinungstermin: 28. März 2018
Englisch
Abmessung: 235mm x 155mm x 14mm
Gewicht: 400g
ISBN-13: 9783319748160
ISBN-10: 3319748165
Artikelnr.: 50391141
Analysing the Relationships between Digital Literacy and Self-Regulated Learning of Undergraduates - A Preliminary Investigation.- Application of RFID Technology to Reduce Overcrowding in Hospital Emergency Departments.- Assessing the Performance of Automated Model Extraction Rules.- A Variational Latent Variable Model with Recurrent Temporal Dependencies for Session-Based Recommendation (VLaReT).- Combining Multiple Web Accessibility Evaluation Reports Using Semantic Web Technologies.- Employee Security Behaviour: The Importance of Education and Policies in Organisational Settings.- Exploring How Environmental and Personal Factors Influence Knowledge Sharing Behavior Leads to Innovative Work Behavior.- FABIOLA: Towards the resolution of Constraint Optimization Problems in Big Data Environment.- Gaps between Theory and Practice on IT Governance Capabilities.- GUI Interaction Interviews in the Evolving Map of Design Research.- On the Influence of Modification Timespan Weightings in the Location of Bugs in Models.- Product Traceability in Ceramic Industry 4.0: A Design Approach and Cloud-based MES Prototype.- User Evaluations of an App Interface for Cloud-based Identity Management.- User-friendly and Extensible Web Data Extraction.