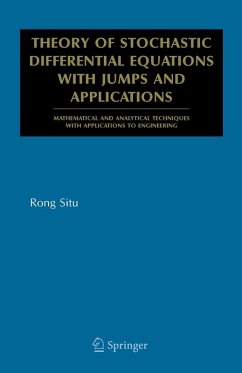 Andere Kunden interessierten sich
auch
für

In particular, the book will provide the reader with the backward SDE technique for use in research when considering financial problems in the market, and with the reflecting SDE technique to enable study of optimal stochastic population control problems. These two techniques are powerful and efficient, and can also be applied to research in many other problems in nature, and science.
Theory of Stochastic Differential Equations with Jumps and Applications will be a valuable reference for grad students and professionals in physics, chemistry, biology, engineering, finance and mathematics who are interested in problems such as the following:
mathematical description and analysis of stocks and shares;
option pricing, optimal consumption, arbitrage-free markets;
control theory and stochastic control theory and their applications;
non-linear filtering problems with jumps;
population control.
Produktdetails
Mathematical and Analytical Techniques with Applications to Engineering
Verlag: Springer, Berlin
Softcover reprint of hardcover 1st ed. 2005
Seitenzahl: 456
Erscheinungstermin: 8. Dezember 2010
Englisch
Abmessung: 235mm x 155mm x 24mm
Gewicht: 718g
ISBN-13: 9781441937711
ISBN-10: 1441937714
Artikelnr.: 32110041
Stochastic Differential Equations with Jumps in Rd.- Martingale Theory and the Stochastic Integral for Point Processes.- Brownian Motion, Stochastic Integral and Ito's Formula.- Stochastic Differential Equations.- Some Useful Tools in Stochastic Differential Equations.- Stochastic Differential Equations with Non-Lipschitzian Coefficients.- Applications.- How to Use the Stochastic Calculus to Solve SDE.- Linear and Non-linear Filtering.- Option Pricing in a Financial Market and BSDE.- Optimal Consumption by H-J-B Equation and Lagrange Method.- Comparison Theorem and Stochastic Pathwise Control.- Stochastic Population Control and Reflecting SDE.- Maximum Principle for Stochastic Systems with Jumps.