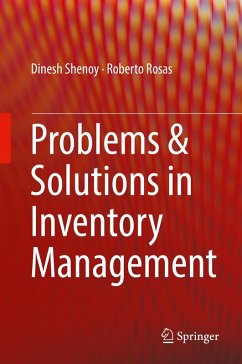 Andere Kunden interessierten sich
auch
für
Intended as a companion to any of the standard textbooks in Inventory Control and Management and written in simple language, it illustrates very clearly the steps students need to follow in order to solve a given problem. It also explains which solution methodologies can be used under which circumstances.
Offering an ideal one-stop resource for mid-level engineering and business students who have taken Inventory Management or a related subject as an elective, this book is the only one students will ever need to prepare and gain confidence for their examinations in this subject.
---
Dieser Download kann aus rechtlichen Gründen nur mit Rechnungsadresse in A, B, BG, CY, CZ, D, DK, EW, E, FIN, F, GR, HR, H, IRL, I, LT, L, LR, M, NL, PL, P, R, S, SLO, SK ausgeliefert werden.
Produktdetails
Verlag: Springer-Verlag GmbH
Seitenzahl: 283
Erscheinungstermin: 5. Oktober 2017
Englisch
ISBN-13: 9783319656960
Artikelnr.: 52936377
1. Inventory Management - an Overview

1.1. History of Inventory Management

1.2. Structure of the book

2. Basics of Inventory Management

2.1. Introduction to the Tortilla Case Study

2.2. What is Inventory

2.3. Types of Inventory

2.4. Need for Inventory

2.5. The Inventory Management Problem

2.6. Cost parameters and computation

2.7. Inventory Model and Policies

2.8. Case Study & numerical problems with answers

3. Deterministic Inventory Model

3.1. Introduction (with reference to case study)

3.2. The General EOQ Model

3.3. Inventory Model with Planned Shortages / backordering

3.4. Inventory Model with finite replenishment rate

3.5. Inventory Model with shortages (lost business)

3.6. Case Study & numerical problems with answers

4. Dynamic Inventory Model (Quantity Discount)

4.1. Introduction (with reference to case study)

4.2. Complete Order / All Units discount

4.3. Incremental discount

4.4. Special Order Quantity/One-off Discount

4.5. Case Study & numerical problems with answers

5. Lot Sizing Heuristics

5.1. Introduction (with reference to case study)

5.2. Lot for Lot

5.3. Part Period Balancing

5.4. Silver Meal

5.5. Least Unit Cost

5.6. Wagner-Whitin

5.7. Case Study & numerical problems with answers

6. Multi-Item Inventory Models

6.1. Introduction (with reference to case study)

6.2. Inventory Model with Budget Constraint

6.3. Inventory Model with Space Constraint

6.4. Inventory Model with Number of Orders Constraint

6.5. Inventory Model with Coordinated Supply

6.6. Case Study & numerical problems with answers

7. Stochastic Inventory Models

7.1. Introduction (with reference to case study)

7.2. Modelling variable Demand

7.3. Computing Lot-size & Reorder Point (Q,R)

7.4. Modelling variable Lead Time

7.5. Applying Service Levels, computing safety stock

7.6. Single Period (News Vendor) Inventory Problem

7.7. Case Study & numerical problems with answers

8. Selective Inventory Management

8.1. Introduction

8.2. Need for Selective Inventory Management

8.3. ABC, VED & FSN Analysis

8.4. Case Study & numerical problems with answers

9. Multi-Echelon Inventory Models

9.1. Introduction

9.2. Simple Warehouse-Retailer Model under certainty - Constant Demand

9.3. Simple Warehouse-Retailer Model under certainty - Time Varying Demand

9.4. Simple Warehouse-Retailer Model under uncertainties

9.5. Case Study & numerical problems with answers

10. Inventory Models for Perishable Items

10.1. Introduction

10.2. Revisiting the Single Period (News Vendor) Problem - Life of item is known

10.3. Extension to multiple periods

10.4. Case Study & numerical problems with answers

11. Maintenance Repair Operations (MRO) Inventories

11.1. Introduction

11.2. Ordering policies for slow moving spare parts

11.3. Application of (S-1,S) model for slow moving spares

11.4. Optimizing number of repairable/rotable spares

11.5. Utilizing multi-echelon inventory systems for managing spares (Risk pooling)

11.6. Case Study & numerical problems with answers

Appendices

1. MS Excel functions for probability distributions with examples

2. References / Bibliography / Additional Reading


"This book is one of the most comprehensive books in inventory management. The authors provide some case studies, problems and solutions in each chapter. ... This book is a must-read for people who want to learn about and master inventory management and its models, techniques and applications in real life." (Dharma Lesmono, Mathematical Reviews, April, 2018)