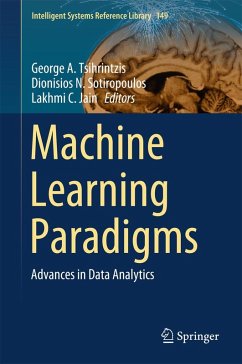 Andere Kunden interessierten sich
auch
für


The need for data analytics arises in most modern scientific disciplines, including engineering; natural-, computer- and information sciences; economics; business; commerce; environment; healthcare; and life sciences.

Coming as the third volume under the general title MACHINE LEARNING PARADIGMS, the book includes an editorial note (Chapter 1) and an additional 12 chapters, and is divided into five parts: (1) Data Analytics in the Medical, Biological and Signal Sciences, (2) Data Analytics in Social Studies and Social Interactions, (3) Data Analytics in Traffic, Computer and Power Networks, (4) Data Analytics for Digital Forensics, and (5) Theoretical Advances and Tools for Data Analytics.

This research book is intended for both experts/researchers in the field of data analytics, and readers working in the fields of artificial and computational intelligence as well as computer science in general who wish to learn more about the field of data analytics and its applications. An extensive list of bibliographic references at the end of each chapter guides readers to probe further into the application areas of interest to them.




Produktdetails
Intelligent Systems Reference Library .149
Artikelnr. des Verlages: 978-3-319-94029-8
1st ed. 2019
Erscheinungstermin: 12. Juli 2018
Englisch
Abmessung: 241mm x 160mm x 26mm
Gewicht: 732g
ISBN-13: 9783319940298
ISBN-10: 3319940295
Artikelnr.: 52596708
Data Analytics in the Medical, Biological and Signal Sciences.- Recommender System of Medical Reports Leveraging Cognitive Computing and Frame Semantics.- Classification Methods in Image Analysis with a Special Focus on Medical Analytics.- Medical Data Mining for Heart Diseases and the Future of Sequential Mining in Medical Field.- Machine Learning Methods for the Protein Fold Recognition Problem .
"It contains interesting work on machine learning in the medical domain. ... it is an interesting collection of machine learning applications across multiple domains. It may be of interest to readers working in one of the discussed areas." (K. Waldhör, Computing Reviews, January, 2019) _