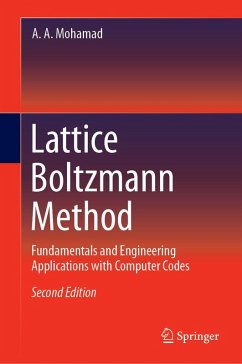 Geräte: PC

ohne Kopierschutz

Größe: 5.44MB
Andere Kunden interessierten sich
auch
für
.flow in isothermal and non-isothermal lid-driven cavities;
.flow over obstacles;
.forced flow through a heated channel;
.conjugate forced convection; and
.natural convection.
Diffusion and advection-diffusion equations are discussed, together with applications and examples, and complete computer codes accompany the sections on single and multi-relaxation-time methods. The codes are written in MatLab. However, the codes are written in a way that can be easily converted to other languages, such as FORTRANm Python, Julia, etc. The codes can also be extended with little effort to multi-phase and multi-physics, provided the physics of the respective problem are known.
The second edition of this book adds new chapters, and includes new theory and applications. It discusses a wealth of practical examples, and explains LBM in connection with various engineering topics, especially the transport of mass, momentum, energy and molecular species.
This book offers a useful and easy-to-follow guide for readers with some prior experience with advanced mathematics and physics, and will be of interest to all researchers and other readers who wish to learn how to apply LBM to engineering and industrial problems. It can also be used as a textbook for advanced undergraduate or graduate courses on computational transport phenomena
---
Dieser Download kann aus rechtlichen Gründen nur mit Rechnungsadresse in A, B, BG, CY, CZ, D, DK, EW, E, FIN, F, GR, HR, H, IRL, I, LT, L, LR, M, NL, PL, P, R, S, SLO, SK ausgeliefert werden.
From the reviews:

"The lattice Boltzmann method (LBM) is a relatively new simulation technique for complex fluid systems and has attracted interest from the research community concerned with computational fluid dynamics (CFD). ... The author provides a good account of the LBM which deals with fundamentals as well as engineering applications. ... A good number of references are presented in the bibliography. The book also provides computer codes in FORTRAN for flow simulation. ... The book is well written and will certainly be useful for beginners in CFD." (K. N. Shukla, Zentralblatt MATH, Vol. 1247, 2012)

"The book introduces the basics of lattice Boltzmann methods, a numerical tool for the simulation of flows in the Navier-Stokes regime. It addresses engineers and scientists not familiar with the subject who are willing to use the tool for applications." (Hans Babovsky, Mathematical Reviews, Issue 2012 h)