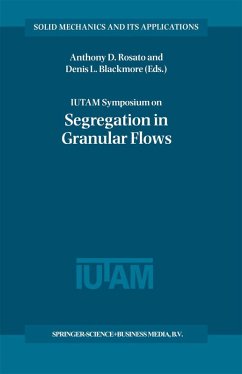 Produktdetails
Solid Mechanics and Its Applications 81
Verlag: Springer / Springer Netherlands
Artikelnr. des Verlages: 978-90-481-5556-9
Softcover reprint of hardcover 1st ed. 2000
Seitenzahl: 364
Erscheinungstermin: 9. Dezember 2010
Englisch
Abmessung: 235mm x 155mm x 19mm
Gewicht: 552g
ISBN-13: 9789048155569
ISBN-10: 9048155568
Artikelnr.: 32026377
Experiments. Chairs: A. Caprihan, E. Fukushima, M. Nakagawa. Segregation Mechanisms in Condensed Granular Flows: A Summary of Some Fundamental Experiments; J. Bridgwater. Segregation Mechanisms and Their Quantification using Segregation Testers; S. de Silva, et al. Particle Segregation in Granular Flows Down Chutes; J.W. Vallance, S.B. Savage. Visualization of Segregation in Granular Matter Inside Silos; A. Samadani, et al. Segregation During Gravity Filling of Storage Bins; D.B. Hastie, P.W. Wypych. Study on the Mixing of Discs in a Galton's Device; L. Bruno, et al. Size Segregation in Snow Avalanches: Observations and Experiments; J. McElwaine, K. Nishimura. Analyzing and Overcoming Industrial Blending and Segregation Problems; J.K. Prescott, J.W. Carson. Microgravity Segregation in Collisional Granular Shearing Flows; M.Y. Louge, et al. Size-Segregation and Mixing Phenomena in Powders Fluidised by Acoustic Vibrations; A.P. Marland, L.V. Woodcock. Segregation of Binary Mixtures in a Vertical Shaker; S.S. Hsiau, H.Y. Hu. Mixing and Segregation in Vertically Vibrated Granular Layers; A. Alexeev, et al. Mixing and Segregation of Grains Studied by N.M.R. Imaging Investigation - Application to a Turbulence Mixer: The Turbula Blender; P. Porion, et al. Velocity Fluctuation Measurements of Granular Media in a Rotating Cylinder by Nuclear Magnetic Resonance Imaging; A. Caprihan, et al. Axial Migration of Two Species of Particles in a Horizontal Cylinder; M. Nakagawa, et al. Signatures of Chaos in 2D Tumbling Mixers; K.M. Hill, et al. Size Segregation in Cylindrical Couette Flows of Particles: Experiments and Simulations; A. Karion, M.L. Hunt. Coupled Size and Density Effects in 2D-Rotating Cylinder: Two-Dimensional Radial Segregation; J.H. Egger, D. Wu. The Kinetics of Segregation in Fluidised Beds; M.C. Leaper, et al. Using Gas Flows to Probe Segregation in Moving Granular Beds; W.R. Paterson, et al. Theory. Chairs: D.L. Blackmore, J.T. Jenkins. Particle Segregation in Collisional Shear Flows; B.Ö. Arnarson, et al. Origins of Some Size Segregation Phenomena: `Why the Brazil Nuts Are on Top' (in a nutshell!); L.V. Woodcock. The Mechanics of Particle-Fluid Flows at High Solids Volume Fraction; E.B. Pitman. Dynamics of a Two Species Oscillating Particle System; D.L. Blackmore, et al. Shock Waves and Particle Size Segregation in Shallow Granular Flows; J.M.N.T. Gray, et al. Simulations. Chair: P. Singh, C. Wassgren. Mixing in a Mono-Disperse Granular Bed Subject to Vertical Vibrations; C. Wassgren. Impact-Regulated Mixing and Segregation in Poured Granular Heaps; U. Tüzün, et al. Segregation of Polydisperse Granular Media in Presence of a Temperature Gradient; S. Luding, et al. A Simple Method to Mix Granular Materials; S. McNamara, S. Luding. Mixing and Segregation in Rotating Drums: A Numerical Study; G.H. Ristow. DEM Study of Segregation in a Rotating Cylinder; K. Yamane. Air Entrainment and Segregation in Powder Flows; R. Mudryy, et al. Author Index. Participants.