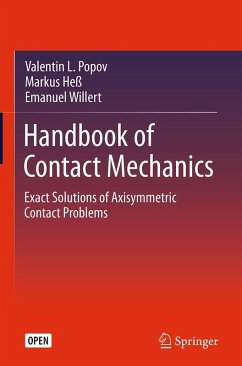 Andere Kunden interessierten sich
auch
für

Solutions of the contact problems include both the relationships between the macroscopic force, displacement and contact length, as well as the stress and displacement fields at the surface and, if appropriate, within the half-space medium. Solutions are always obtained with the simplest available method - usually with the method of dimensionality reduction (MDR) or approaches which use the solution of the non-adhesive normal contact problem to solve the respective contact problem.


Produktdetails
Verlag: Springer, Berlin
Artikelnr. des Verlages: 978-3-662-58708-9
1st ed. 2019
Erscheinungstermin: 13. Juni 2019
Englisch
Abmessung: 241mm x 160mm x 25mm
Gewicht: 692g
ISBN-13: 9783662587089
ISBN-10: 3662587084
Artikelnr.: 54748172
Introduction.- Normal contact without adhesion.- Normal contact with adhesion.- Tangential contact.- Torsional contact.- Wear.- Transversely isotropic problems.- Viscoelastic materials.- Contact problems of functionally graded materials.- Annular contacts.- Appendix.- Index.