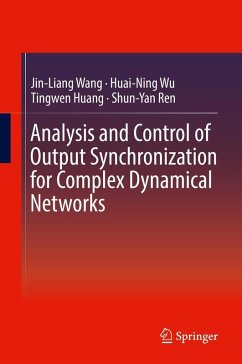 ---
Dieser Download kann aus rechtlichen Gründen nur mit Rechnungsadresse in A, B, BG, CY, CZ, D, DK, EW, E, FIN, F, GB, GR, HR, H, IRL, I, LT, L, LR, M, NL, PL, P, R, S, SLO, SK ausgeliefert werden.
Produktdetails
Verlag: Springer-Verlag GmbH
Erscheinungstermin: 14.08.2018
Englisch
ISBN-13: 9789811313523
Artikelnr.: 56792482
Introduction.- Output Synchronization Criteria for Impulsive CDNs with Time-varying Delay.- Passivity and Output Synchronization of CDNs with Fixed and Adaptive Coupling Strength.- Analysis and Control of Output Synchronization in Directed and Undirected CDNs.- Output Synchronization in CNNs with and without External Disturbances.- Local and Global Exponential Output Synchronization of CDDNs.- Adaptive output synchronization of CDDNs with output coupling.- Pinning Synchronization of CDNs With Multi-Weights.- Analysis and Pinning Control for Output Synchronization and H-Infinity Output Synchronization of Multi-weighted Complex Networks.