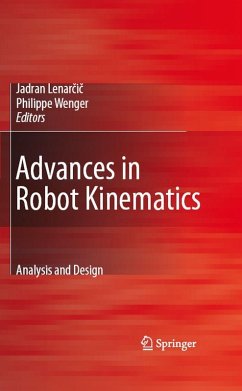 Andere Kunden interessierten sich
auch
für
---
Dieser Download kann aus rechtlichen Gründen nur mit Rechnungsadresse in A, B, BG, CY, CZ, D, DK, EW, E, FIN, F, GR, HR, H, IRL, I, LT, L, LR, M, NL, PL, P, R, S, SLO, SK ausgeliefert werden.
Produktdetails
Verlag: Springer-Verlag GmbH
Erscheinungstermin: 29.05.2008
Englisch
ISBN-13: 9781402086007
Artikelnr.: 37343134
Preface. 1. Methods in Kinematics. 2. Kinematic Synthesis. 3. Force Analysis. 4. Kinematic Redundancy. 5. Parallel Mechanisms and Workspace Analysis. 6. Analysis and Application of Parallel Mechanisms. 7. Parallel Mechanisms and Screw Algebra. Author Index.
---
Preface; SINGULARITY ANALYSIS OF PARALLEL MANIPULATORS; A New Assessment of Singularities of Parallel Kinematic Chains , by Michele Conconi and Marco Carricato; Singularity Analysis through Static Analysis , by J. Hubert and J.-P. Merlet; Constraint Singularities and the Structural Parameters of Parallel Robots , by Grigore Gogu; Forward Kinematics and Singularity Analysis of a 3-RPR Planar Parallel Manipulator , by Xianwen Kong; Geometric Algebra Approach to Singularity of Parallel Manipulators with Limited Mobility , by Tanio K. Tanev; SinguLab - A Graphical User Interface for the Singularity Analysis of Parallel Robots Based on Grassmann-Cayley Algebra , by Patricia Ben-Horin, Moshe Shoham, Stéphane Caro, Damien Chablat and Philippe Wenger; Singularity Analysis of Limited-DOF Parallel Manipulators Using Grassmann-Cayley Algebra , by Daniel Kanaan, Philippe Wenger and Damien Chablat; DESIGN OF ROBOTS AND MECHANISMS; On the Design of Fully Constrained Parallel Cable-Driven Robots , by M. Gouttefarde, S. Krut, O. Company, F. Pierot and N. Ramdani; Synthesis of Part Orienting Devices for Spatial Assembly Tasks , by P. Larochelle; Minimum EnergyManipulator Design , by A. Rojas Salgado and Y. Ledezman Rubio; Synthesis and Analysis of a Constrained Spherical Parallel Manipulator , by G.S. Soh and J.M. McCarthy; A Nonholonomic 3-DOF Parallel Robot , by Patricia Ben-Horin and Federico Thomas; 4DOF Parallel Architecture for Laparoscopic Surgery , by Mohammad Aamir Khan, Matteo Zoppi and Rezio Molfino; Flapping-Wing Mechanism for a Bird-Sized UAVs: Design, Modeling and Control , by Ch. Grand, P. Martinelli, J.-B. Mouret and S. Doncieux; Extended Jacobian Inverse Kinematics and Approximation of Distributions , by Mariusz Janiak and Krzysztof Tcho n; A Screw Syzygy with Applications to Robot Singularity Computation , by J.M. Selig and Peter Donelan; Singularity Robust Jacobian Inverse Kinematics for Mobile Manipulators , by Krzysztof Tcho n and Lukasz Malek;Robots Based on Assur Group A (3.5) , by Karl Wohlart; Kinematics of Free-Floating Systems through Optimal Control Theory , by G. Le Vey; Genericity Conditions for Serial Manipulators , by Peter Donelan; Alternative Forms for Displacement Screws and Their Pitches , by I.A. Parkin; MOTION PLANNING AND MOBILITY; Time-Invariant Strategies in Coordination of Human Reaching , by Satyajit Ambike and James P. Schmiedeler; Mobility and Higher Order Local Analysis of the Configuration Space of Single-Loop Mechanisms , by A. Müller and J.M. Rico; Optimization of a Test Trajectory for SCARA Systems , by J.-F. Gauthier, J. Angeles and S. Nokleby; Singularity Free Path Planning for Parallel Robots , by Samir Lahouar, Saïd Zeghloul and Lotfi Romdhane; A Comparison between Two Motion Planning Strategies for Kinematically Redundant Parallel Manipulators , by J.A. Carretero, I. Ebrahimi and R. Boudreau; Trajectory Planning of Parallel Manipulators for Global Performance Optimization , by Ofelia G. Alba-Gómez, J. Alfonso Pamanes and Philippe Wenger; Human Motion Reconstruction by Direct Control of Marker Trajectories , by Emel Demircan, Luis Sentis, Vincent De Sapio and Oussama Khatib; PERFORMANCE AND PROPERTIES OF MECHANISMS; New Self-Motions of Parallel Manipulators , by Adolf Karger; Exact Envelope Computation for Moving Surfaces with Quadratic Support Functions , by Margot Rabl, Bert Jüttler and Laureano Gonzalez-Vega; A Compound-Structure Frame for Improving the Performance of a Dielectric Elastomer Actuator , by Giovanni Berselli, Rocco Vertechy, Gabriele Vassura and Vincenzo Parenti Castelli; Transitions between Multiple Solutions of the Direct Kinematic Problem , by E. Macho, O. Altuzarra, C. Pinto and A. Hernandez; Kinetostatic Performance of a Planar Parallel Mechanism with Variable Actuation , by N. Rakotomanga, D. Chablat and S. Caro; Results on Planar Parallel Manipulators with Cylindrical Singularity Surface , by G. Nawratil; Stiffness Matrix of Compliant Parallel