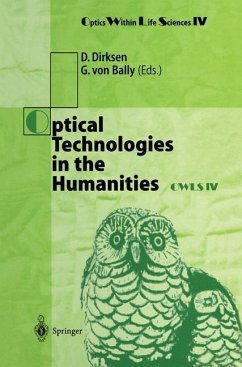 Andere Kunden interessierten sich
auch
für

It is unique as a presentation of new optical technologies for cultural heritage protection.
Produktdetails
Optics Within Life Sciences .4
Verlag: Springer, Berlin
Softcover reprint of the original 1st ed. 1997
Seitenzahl: 280
Erscheinungstermin: 6. Oktober 2011
Englisch
Abmessung: 235mm x 155mm x 15mm
Gewicht: 428g
ISBN-13: 9783642645952
ISBN-10: 364264595X
Artikelnr.: 36119301
Archaeological Research and New Technologies.- New Technologies in Cypriote Archaeology: A Current Research Program on Ancient Ceramic Technology.- The Role of Science in Archaeological Regional Surface Artefact Survey.- Holography and Other Interferometrical Techniques.- Holography in Museums.- Holography: A New Technology in Cuneiform Research.- Investigation of Decay Mechanisms in Historical Artwork via TV Holography.- Application of Holographic Interferometry to Museum Objects.- Color Holography in a Single Layer for Documentation and Analysis of Cultural Heritage.- Three-Dimensional Microscopy with a Numerical Optical Low-Coherence Holographic Technique.- Holographic Investigation of the Human Jaw Bone Under Functional Loads.- Other Analytical Techniques (Material Analysis, Dating, Localization, Biomolecular Methods, etc.).- 3D Computerized Tomography: Synergism Between Technique and Art.- Layered Artefacts: Non-destructive Characterization by PIXE and RBS.- New Methods of Reflectography with Special Filter and Image Processing Techniques: Examination of Materials, Writings, and Underdrawings.- X-Ray Fluorescence Analysis Induced by Synchrotron Radiation (SYXRF) and First Archaeometric Applications.- Neutron Activation Analysis of Mycenaean and Related Pottery from the Greek Mainland.- Luminescence Dating in Archaeology: Recent Developments.- Mineralogical Technologies in Archeology: Their Application to Grey-Minyan Ceramics of Troy VI.- Osteodensitometrical Studies and Elemental Analysis of Ancient Human Bones.- Ruby Glass of the Baroque Period: An Interdisciplinary Study.- Surface Change on Laser Irradiated Bioglass®.- Laser Cleaning.- Excimer Laser Cleaning for Mediaeval Stained Glass Windows.- Laser Cleaning with a Nd: YAG Laser.- Pattern Recognition, Including Digital Evaluation.- Optical Correlation Methods in Epigraphy.- Cuneiform Recognition Experiments: Coherent Optical Methods and Results.- Digital Character Recognition of Cuneiform Inscriptions via Neural Networks.- The Use of Digital Image Processing for the Documentation of Monuments and Sites.- Vision Functions Related to 3D Image Display.- Visual Stimulation Techniques at the End of XX Century.- Unconventional Microscopy.- Superresolution in Far-Field Microscopy.- Scanning Acoustic Microscopy: Principle and Application in Material Testing of Antique and Contemporary Samples.- Application of Tandem Scanning Microscopy to the Non-destructive Investigation of Tool Marks on Historic Ivory Carvings.- Spectroscopical Techniques (Fluorescence, Luminescence, Reflection, Absorption, etc.).- Ground-Penetrating Radar Applications in Cultural Heritage.- Raman Spectra Treatment with Signal Processing Techniques.- Imaging Spectroscopy of Drawing and Painting Materials in the Near Infrared.- TL Dating of Quartz Beyond 100 ka?.- Separation and Identification of Raman Spectra for the Recognition of Pictorial Pigments.- Laser Photons in Medical Diagnosis.- Profilometry.- 3-D Shape Measurement Techniques and Their Applications.- Cuneiform Surface Reconstruction by Optical Profllometry.- The Ageing of Leather: Effects on the Surface Topography.- Authors' Index.