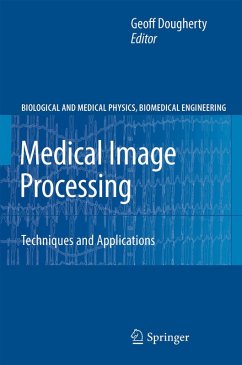 Andere Kunden interessierten sich
auch
für


Although the chapters are essentially self-contained they reference other chapters to form an integrated whole. Each chapter employs a pedagogical approach to ensure conceptual learning before introducing specific techniques and "tricks of the trade".

The book concentrates on a number of current research applications, and will present a detailed approach to each while emphasizing the applicability of techniques to other problems. The field of topics is wide, ranging from compressive (non-uniform) sampling in MRI, through automated retinal vessel analysis to 3-D ultrasound imaging and more. The book is amply illustrated with figures and applicable medical images.

The reader will learn the techniques which experts in the field are currently employing and testing to solve particular research problems, and how they may be applied to other problems.
Produktdetails
Biological and Medical Physics, Biomedical Engineering
Verlag: Springer, Berlin
Artikelnr. des Verlages: 80011996
2011
Erscheinungstermin: 25. Juli 2011
Englisch
Abmessung: 246mm x 164mm x 23mm
Gewicht: 794g
ISBN-13: 9781441997692
ISBN-10: 1441997695
Artikelnr.: 32983861
Preface.- Contributors.- Introduction.- Rapid Prototyping of Image Analysis Applications.- Seeded Segmentation Methods for Medical Image Analysis.- Deformable Models and Level Sets in Image Segmentation.- Fat Segmentation in Magnetic Resonance Images.- Angiographic Image Analysis.- Detecting and Analyzing Linear Structures in Biomedical Images: A Case Study Using Corneal Nerve Fibers .- Improving and Accelerating the Detection of Linear Features: Selected Applications in Biological Imaging.- Medical Imaging in the Diagnosis of Osteoporosis and Estimation of the Individual Bone Fracture Risk.- Applications of Medical Image Processing in the Diagnosis and Treatment of Spinal Deformity.- Image Analysis of Retinal Images.- Tortuosity as an Indicator of the Severity of Diabetic Retinopathy.- Medical Image Volumetric Visualization: Algorithms, Pipelines and Surgical Applications.- Sparse Sampling in MRI.- Digital Processing of Diffusion-Tensor Images of Avascular Tissues.