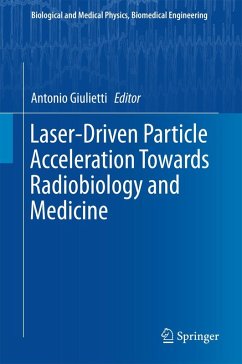 Produktdetails
Biological and Medical Physics, Biomedical Engineering
Artikelnr. des Verlages: 978-3-319-31561-4
1st ed. 2016
Erscheinungstermin: 13. Mai 2016
Englisch
Abmessung: 243mm x 167mm x 25mm
Gewicht: 693g
ISBN-13: 9783319315614
ISBN-10: 3319315617
Artikelnr.: 44570850
Part I Laser driven particle acceleration: From experiments to devices.- Ultra-intense lasers and particle acceleration: past, present and future.- Laser-plasma interactions and stable production of ultrashort relativistic electron bunches.- Proton acceleration: state of the art and perspectives.- Recent progress on laser-driven particle acceleration in China.- Multi-GeV regime of Laser-Wakefield dual-stage accelerator.- Dosimetry of pulsed particle sources.- Part II Biophysical studies with laser driven particle sources.- High-energy radiation femtochemistry.- High-dose rate exposure of biological matter.- Comparative radiobiological tests with RF versus Laser-driven electron bunches.- Ultrafast X-ray imaging of living cells.- Biological responses triggered by laser-driven sources (proton and X-ray).- Part III Synchrotron, ion accelerator and microbeam.- Synchrotron source: dosimetry and pre-clinical trials.- Microbeam radiation and biological responses.- Cyberniffe, dose fractioning for clinical protocols.- Protontherapy of cancer.- Ion radiotherapy: state of the art and future.