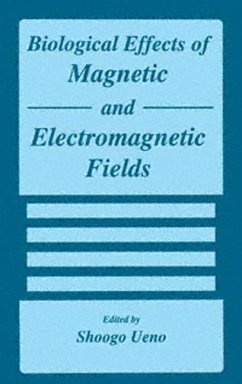 Produktdetails
Verlag: Springer, Berlin
1996.
Seitenzahl: 260
Erscheinungstermin: 30. April 1996
Englisch
Abmessung: 260mm x 183mm x 19mm
Gewicht: 544g
ISBN-13: 9780306452925
ISBN-10: 0306452928
Artikelnr.: 22944939
Magnetic Nerve Stimulation and Effects of Magnetic Fields on Biological, Physical and Chemical Processes (S. Ueno, M. Iwasaka). Biological Interaction of Extremely Low Frequency Electromagnetic Fields (T.S. Tenforde). The Effects of ELF on Chemical Reaction Rates in Biological Systems (F.S. Barnes). A Growing Scientific Consensus on the Cell and Molecular Biology Mediating Interactions with Environmental Electromagnetic Fields (W.R. Adey). Physical Mechanisms for Biological Effects of Low Field Intensity ELF Magnetic Fields (C. Polk). Electromagnetic Fields and Cellular Systems: Signal Transduction, Cell Growth andProliferation (R.P. Liburdy). Effects of Electromagnetic Fields on K+(Rb+) Uptake by Hela Cells (H. Miyamoto et al.).Effects of Exposure to a 50 Hz Magnetic Field on Melatonin in Rats (M. Kato, T. Shigemitsu). Investigation of Exposure to Extremely Low Frequency Magnetic and Electric Fields: Status of Laboratory Animal Studies (L. Anderson). Millimeter Resolution Dosimetry for Electromagnetic Fields from Mobile Telephones and Power Lines (O.M. Gandhi, J.Y. Chen). Cylindrical Model for Neural Stimulation with Magnetic Fields (M.A. Stuchly, K.P. Esselle). The Applications of Electromagnetic Energy to the Treatment of Neurological and Psychiatric Diseases (J.C. Lin et al.). Genetic Analysis of Iron Biomineralization (T. Matsunaga et al.). Effects of Static Magnetic Fields on Erythrocyte Rheology (T. Shiga et al.). Public Health on Electromagnetic Fields and Magnetic Shield of Linear Motorcar (EDS) Maglev (M. Nakagawa). Recent Biological Studies Relevant to Carcinogenesis (N.A. Cridland et al.). 4 additional articles. Index.