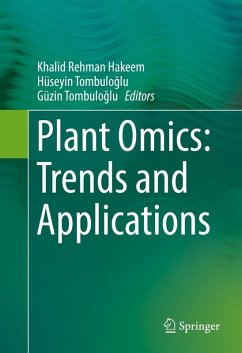 Andere Kunden interessierten sich
auch
für
To comprehend the organizational principle of cellular functions at diff erent levels, an integrative approach with large-scale experiments, the so-called 'omics' data including genomics, transcriptomics, proteomics, and metabolomics, is needed. Omics aims at the collective characterization and quantifi cation of pools of biological molecules that translate into the structure, function, and dynamics of an organism or organisms. Currently, omics is an essential tool to understand the molecular systems that underlie various plant functions. Furthermore, in several plant species, the development of omics
resources has progressed to address the particular biological properties of individual species. Integration of knowledge from omics-based research is an emerging issue as researchers seek to identify significance, gain biological insights and promote translational research. From these perspectives, we intend to provide the emerging aspects of plant systems research based on omics and bioinformatics analyses together with their associated resources and technological advances. Th e present book covers a wide range of omics topics, and discusses the latest trends and application area of plant sciences. In this volume, we have highlighted the working solutions as well as open problems and future challenges in plant omics studies. We believe that this book will initiate and introduce readers to state-of-the-art developments and trends in omics-driven research.
---
Dieser Download kann aus rechtlichen Gründen nur mit Rechnungsadresse in A, B, BG, CY, CZ, D, DK, EW, E, FIN, F, GB, GR, HR, H, IRL, I, LT, L, LR, M, NL, PL, P, R, S, SLO, SK ausgeliefert werden.
Produktdetails
Verlag: Springer-Verlag GmbH
Erscheinungstermin: 23.08.2016
Englisch
ISBN-13: 9783319317038
Artikelnr.: 46927381
Part 1. Genomics and Transcriptomics.- Genome Analysis of Plants.- Genomics Resources for Plants.- QTL-Analysis in Plants: Ancient and modern perspectives.- Transposon Activity in Plant Genomes.- Next Generation Sequencing: Advantages, Disadvantages and Future.- Molecular Markers and their Applications.- Transcriptomic Responses of Barley (Hordeum vulgare L.) to Drought and Salinity.- miRNA profiling in plants: Current identification and expression approaches.- Identification of gene families using genomics and/or transcriptomics data.- Epigenetics and Applications in Plants.- Next-Generation Sequencing Technologies and Plant Improvement.- Part 2. Proteomics and Metabolomics.- Plant Proteomics- An Overview.- Proteomics of Bamboo-the fast growing grass.- Proteomics-Driven Research of Abiotic Stress Responses in Crop Plants.- Proteomics in Sex Determination of Dioecious Plants.- Metabolome Analysis of Crops.- Plant Metabolomics and Strategies.- Noninvasive methods to support metabolomic studies targeted at plant phenolics for food and medicinal use.- Part 3. Other Omics fields.- Plant Glycomics.- Technological Platforms to Study Plant Lipidomics.- Plant Interactomics under Salt and Drought Stress.