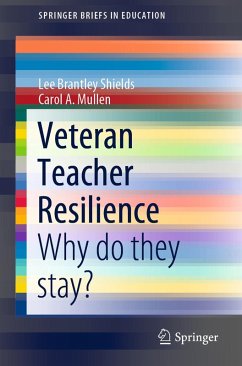 Andere Kunden interessierten sich
auch
für
Features of this book include:
Focuses on veteran teacher resilience and why veteran teachers choose to remain in the classroom and teaching profession
Uses an interview method involving veteran teachers that illuminates issues of resiliency and retention from their perspective
Highlights 15 narrative accounts of veteran teachers tailored to their perceptions, experiences, and strategies for navigating barriers and overcoming challenge
Combines conceptual frameworks, research results, interventions, and strategies
Connects implications of the study and suggestions for future research to practice and policy
This book is for researchers interested in teacher resilience, particularly veteran teacher resilience and the study and development of it, as well as practitioners drawn to the same topic, with applicability to their fields. Anyone interested in resilience, particularly within demanding professional contexts and stressful situations, should find value.
"The focus on teacher resilience is original and it is an important aspect of why teachers might choose to stay in the profession. Teacher resilience is understudied and should provide useful knowledge to policymakers and education leaders on how to improve working conditions and increase efficacy. So much ink is spilled extolling why teachers exit the profession--there is a dearth of research on why they stay, which in my opinion is even more important than why they leave. This book makes an important contribution to the literature and will hopefully inform policy making and inspire others to conduct research on the subject." Christopher H. Tienken, Associate Professor, Dept. of Education Leadership Management and Policy, Seton Hall University, South Orange, NJ, USA
"The topic is original. It seems there is much literature on new teachers and why they leave, but little on veteran teachers and why they stay. The topic and the reporting of the findings with suggestions for practices to be implemented in university programs as well as in K-12 schools is very useful. The format this book follows is actually a strong one for other researchers and students in doctoral programs."
Sandra Harris, Professor Emerita, Educational Leadership, Lamar University, Beaumont, Texas, USA
---
Dieser Download kann aus rechtlichen Gründen nur mit Rechnungsadresse in A, B, BG, CY, CZ, D, DK, EW, E, FIN, F, GR, HR, H, IRL, I, LT, L, LR, M, NL, PL, P, R, S, SLO, SK ausgeliefert werden.
Produktdetails
Verlag: Springer-Verlag GmbH
Seitenzahl: 107
Erscheinungstermin: 30. Juli 2020
Englisch
ISBN-13: 9783030539184
Artikelnr.: 59899322
LIST OF ILLUSTRATIONS

ACKNOWLEDGMENTS

1 Introduction

Abstract

Overview

About This Book

Statement of the Problem

Significance of the Research

Purposes and Justification of the Study

Conceptual Framework

Summary

2 A Review of the Literature

Abstract

Overview

Search Processes and Criteria

Synthesis of the Literature

Individual Factors

Contextual Factors

Teacher Stress and Burnout

Strategies That Cultivate Resilience

Policy and Governance Issues and Implications Summary

3 Methodology

Abstract

Overview

Research Questions and Design

Participant Selection and Setting

Limitations and Delimitations

Data Collection

Instrument Design and Validation

Veteran Teacher Interview Protocol

Confidentiality and Ethical Treatment of Data

Summary

4 Data Analysis and Findings Abstract

Overview Participants Ally: Veteran Teacher #1

Amy: Veteran Teacher #2

Brandi: Veteran Teacher #3

Brenda: Veteran Teacher #4

Cindy: Veteran Teacher #5

Dana: Veteran Teacher #6

Jake: Veteran Teacher #7

Janice: Veteran Teacher #8

Jill: Veteran Teacher #9 Jim: Veteran Teacher #10

Kim: Veteran Teacher #11

Sarah: Veteran Teacher #12

Sue: Veteran Teacher #13

Tim: Veteran Teacher #14

Tom: Veteran Teacher #15

Thematic Outcomes of Investigation

Purpose in Teaching (Theme #1)

Positive Relationships in the Milieu (Theme #2)

Passion for Teaching (Theme #3)

Supportive School Culture (Theme #4)

Passion for Curricular Content (Theme #5)

Accommodating Work Schedule (Theme #6)

No Other Opportunities Available (Theme #7)

Contextual Factors and Their Role

Individual Factors of Resilience

Strategies Used for Coping With Profound Challenges

Dealing With Parental Complaints (Theme #1) Managing Student Behaviors (Theme #2) Surviving the First Years in Teaching (Theme #3) Maintaining Work-Life Balance (Theme #4) Summary

5 Discussion of Findings

Abstract

Overview

Teacher Resilience Dimensions Found Resilient Teachers Display Individual Factors

Resilient Teachers Believe Education Is Important

Resilient Teachers Find Their Purpose in Teaching

Resilient Teachers Are Passionate About Their Students

Resilient Teachers Are Passionate About Their Content

Resilient Teachers Display Perseverance

Contextual Factors Play a Role in Developing Resilience

Positive Administrative Support Fosters Teacher Resilience

Positive Relationships Nurture Teacher Resilience

A Positive School Culture Grows Teacher Resilience

Resilient Teachers See the Big Picture

Resilient Teachers Value Experience

Resilient Teachers Value Strong Mentors

Resilient Teachers Desire Relevant Professional Development

Summary

6 Implications, Conclusions, and Recommendations

Abstract

Overview

Implications for Policy

Implications for Research

Implications for Practice

Recruitment and Hiring

School Culture

Mentor Teachers

Professional Development

Conclusions

Recommendations for Future Research

Summary

References

Appendixes

A Literature Review Table With Select Entries B Demographics Survey

C Veteran Teacher Interview Protocol