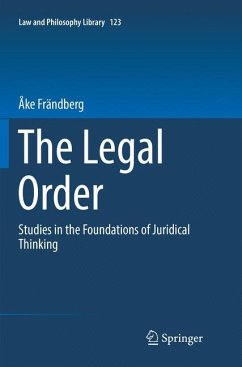 Andere Kunden interessierten sich
auch
für


Four kinds of J-concepts are investigated: morphological J-concepts, those that help us to structure the law in a logical and functional way; topological J-concepts, those that help us to indicate the phenomena to which the law is applicable, and to separate the areas of application for different legal systems; praxeological J-concepts, those that help us to explore the relations between law and action, and methodological J-concepts, those that help us to describe the methods of the professional-juridical handling of the law.

The work can be characterised as presenting a lawyer´s philosophy of law.


Produktdetails
Law and Philosophy Library 123
Artikelnr. des Verlages: 978-3-030-07665-8
Softcover reprint of the original 1st ed. 2018
Seitenzahl: 348
Erscheinungstermin: 26. Januar 2019
Englisch
Abmessung: 235mm x 155mm x 18mm
Gewicht: 534g
ISBN-13: 9783030076658
ISBN-10: 3030076652
Artikelnr.: 57234003
Chapter 1. Introduction.- Chapter 2. The Legal Order. Morphological Levels.- Chapter 3. The Juridical Rule Thinking.- Chapter 4. The Addressee Problem.- Chapter 5. Normative Modalities.- Chapter 6. The Place of the Normative in the Ontological Universe.- Chapter 7. The Juridical Topology. Some Basic Concepts.- Chapter 8. Genetic-Topological Norm-Relations.- Chapter 9. On Analogical Use of Legal Rules.- Chapter 10. On Conflicts between Legal Rules.- Chapter 11. On Relations between Legal Systems.- Chapter 12. Retroactivity, Simulactivity and Infraactivity.- Chapter 13. Some Basic Praxeological Concepts. The Application of Law and the Validity of Law.- Chapter 14. Statutory Interpretation Against the Background of a General Typology of Interpretation.- Chapter 15. Operative Goals and Background Goals in Legislative Argumentation.- Chapter 16. Stability and Change. A Study in Juridical Ideology.- Chapter 17. Epilogue: Intellectualism as a Cardinal Virtue of the Lawyer.