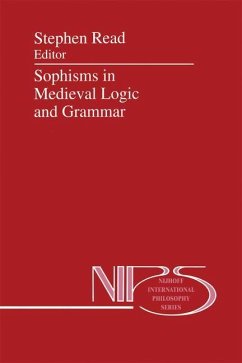 Produktdetails
Nijhoff International Philosophy Series .48
Softcover reprint of the original 1st ed. 1993
Seitenzahl: 444
Erscheinungstermin: 23. Oktober 2012
Englisch
Abmessung: 240mm x 160mm x 23mm
Gewicht: 705g
ISBN-13: 9789401047760
ISBN-10: 9401047766
Artikelnr.: 37478902
Preface. Introduction; S. Read. Part I: Sophisms as a Genre. Resoluble, Exponible, and Officiable Terms in the Sophistria of Petrus Olai, MS Uppsala C599; R. Andrews. Appendices 1, 2. Richard Ferrybridge's Logica: a Handbook for Solving Sophismata; M. Bertagna. The Sophismata in MSS Bruges SB509 and Florence Med.-Laur. S. Croce 12 sin.,3; S. Ebbesen. Appendix. List of MSS. Orléans 266 and the Sophismata Collection: Master Joscelin of Soissons and the Infinite Words in the Early Twelfth Century; C.H. Kneepkens. Appendix. The Sophismata Attributed to Marsilius of Padua; R. Lambertini. List of MSS. The Sophism 'Omnis propositio est vera vel falsa' by Henry Hopton (Pseudo-Heytesbury's De veritate et falsitate propositionis); A. Maieruù. Appendix. Die Rolle der Sophismata im Unterricht des Krakauer Universität im 15. Jahrhundert; M. Markowski. The Sophismata asinina of William Heytesbury: Variations on a Given Theme; F. Pironet. Appendix. A Comparaive Analysis of the Treatment of Sophisms in MSS Digby 2 and Royal 12 Fxiox of the Magister Abstractionum; P.A. Streveler. Appendices 1, 2. 'Omnis phoenix est': Quantification and Existence in a New Sophismata-Collection (MS Clm 14522); A. Tabarroni. Appendix. Expositio as a Method of Solving Sophisms; M. Yrjönsuuri. Part II: Grammatical Sophisms. Grammatical Sophisms in Collections of Logical Sophisms: 'Amatus sum' in BN.lat.16135; C. Brousseau-Beuermann. La distinction entre actus execitus et actus significatus dans les sophismes grammaticaux du MSS BN lat. 16618 et autres textes apparantés; I. Rosier. Appendix. Interest mea et imperatoris ducere castam in uxorem: Can 'est' be Used Impersonally? M.Sirridge. Part III: Logical Sophisms. Who is the Worthiest of Them All? A. Bäck. Albert de Saxe et les Sophismes de l'Infini; J. Biard. Il Sofisma de Paolo Veneto: 'Sortes in quantum homo est animal'; A. Conti. Appendix. The Soul of the Antichrist Necessarily will be a Being: A Modal Sophism in 16th Century Logic Texts; J. Coombs. 'Debeo tibi equum': a Reconstruction of the Theoretical Framework of Buridan's Treatment of the sophisma; G. Klima. Trinitarian Sophisms in Robert Holcot's Theology; S. Knuuttila. Obligations and Liars; C. Martin. Appendix. Hominis asinus/Asinus hominis; A. d'Ors. Solving the Insolubles: Hints from Ockham and Burley; C. Panaccio. Index of Manuscripts. Index of Names.