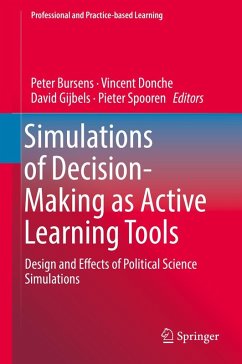 Produktdetails
Professional and Practice-based Learning .22
Artikelnr. des Verlages: 978-3-319-74146-8
1st ed. 2018
Erscheinungstermin: 15. März 2018
Englisch
Abmessung: 241mm x 159mm x 20mm
Gewicht: 491g
ISBN-13: 9783319741468
ISBN-10: 3319741462
Artikelnr.: 50291094
Chapter 1 Preface: Simulations of decision-making in political science education, Pieter Spooren, Dorothy Duchatelet, Peter Bursens, David Gijbels & Vincent Donche.- Chapter 2 Introduction Part 1: Design and assessment of simulations, Peter Bursens, David Gijbels, Vincent Donche & Pieter Spooren.- Chapter 3 The costs and benefits of organizing a multi-institutional simulation on the European Union, Andreas Sobisch, John Scherpereel, Peter Loedel, Gretchen Van Dyke & Nick Clark.- Chapter 4 Do simulations enhance decision making in the EU Financial Services? John T. Ryan.- Chapter 5 What's the EU? Achieving learning outcomes and preparing U.S. students for EuroSim, Rebecca Jones.- Chapter 6 Mission impossible? Verisimilitude in EU simulations, Pierpaolo Settembri & Marco Brunazzo.- Chapter 7 "Will it blend?" Combining online and on-site elements in simulation games, Simon Raiser, Björn Warkalla, Annegret Schneider & Konstantin Kaiser.- Chapter 8 Oranges and Apples? Using Comparative Judgement for reliable briefing paper assessment in simulation games, Pierpaolo Settembri, Roos Van Gasse, Liesje Coertjens & Sven De Maeyer.- Chapter 9 Assessment Strategies in Simulation Games, Simon Usherwood.- Chapter 10 Introduction Part 2: Investigating student learning and outcomes in simulation-based learning environments, Vincent Donche, David Gijbels, Pieter Spooren & Peter Bursens.- Chapter 11 Simulating European climate policy negotiations in a teacher training seminar - which effects can Be detected? Sophie Wulk.- Chapter 12 Effects of EU simulation games on secondary school pupils` political motivations, attitudes and knowledge - results of an intervention study, Monika Oberle, Sven Ivens & Johanna Leunig.- Chapter 13 Learning effects of negotiation simulations - evidence from different student cohorts , Morten Kallestrup.- Chapter 14 Simulations are no'one-for-all' experience: how participants vary in their development of self-efficacy for negotiating, Dorothy Duchatelet.- Chapter 15 Simulations of decision-making in political science education: premises, promises and challenges, David Gijbels, Pieter Spooren, Peter Bursens & Vincent Donche.