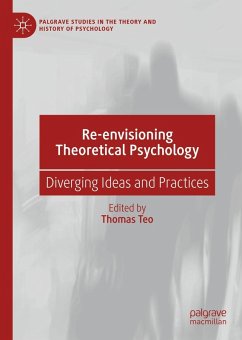 Andere Kunden interessierten sich
auch
für

The authors situate their analyses in the context of the increasing gap between alternative and mainstream and between the discipline and the profession of psychology. They demonstrate that changes in society, culture and technology, the internationalization of the psychological humanities, and the cross-fertilization of intellectual innovations from other disciplines now afford possibilities for new orientations in theoretical psychology.
The volume aims to do justice to psychological topics, human beings, and the intellectual problems that psychologists encounter, while also providing space for (meta)theoretical engagement, often neglected in the discipline. Together, the chapters in this collection make the case that a renewal of the discipline and practice of psychology is a task that is best accomplished collectively, and, despite significant disagreements, in solidarity.


Produktdetails
Palgrave Studies in the Theory and History of Psychology
Artikelnr. des Verlages: 978-3-030-16761-5
1st ed. 2019
Seitenzahl: 316
Erscheinungstermin: 13. Juni 2019
Englisch
Abmessung: 216mm x 153mm x 22mm
Gewicht: 538g
ISBN-13: 9783030167615
ISBN-10: 3030167615
Artikelnr.: 55352471
Preface: Thomas Teo.- 1. Toward a Poetics of the Other: New Directions in Post-Scientific Psychology; Mark Freeman.- 2. An Historical Turn for Theoretical and Philosophical Psychology; Jeff Sugarman.- 3. An Intersectionality for Theoretical Psychology?; Kathleen L. Slaney.- 4. A Critical Reframing of Theoretical Psychology As Maternal: Strengthening Psychology's Inter- and Transdisciplinary Identity for the Twenty-First Century; Mary Beth Quaranta Morrissey.- 5. A Role for the History of Psychology in Theoretical and Philosophical Psychology; Saulo de Freitas Araujo.- 6. The Indispensable Subject of Psychology: Theory, Subjectivity and the Specter of Inner Life; Suzanne R. Kirschner.- 7. Testing the Limits:  Theoretical Psychology Re-envisioned in Light of Boundary-Pushing Trends in Theoretical Physics, Philosophy of Biology, and Philosophy of Psychology; Barbara S. Held.- 8. Vertical and Horizontal Development in Theoretical Psychology; Lisa M. Osbeck.- 9. Toward a Metaphysical Empirical Psychology; Gregg Henriques.- 10. A New Wave of Thinking in Psychology; Brent D. Slife and Eric A. Ghelfi.- 11. Beyond reflexivity in theoretical psychology: From philosophy to the psychological humanities; Thomas Teo.