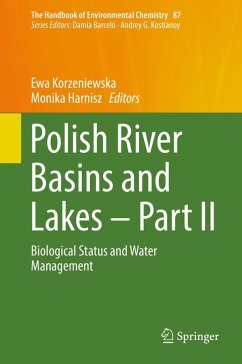 Andere Kunden interessierten sich
auch
für


This book and the companion volume Polish River Basins and Lakes - Part I: Hydrology and Hydrochemistry offer valuable resources for students, environmental chemists, biologists, geologists, hydrologists and surface waters managers interested in the environmental conditions of Poland's surface waters.


Produktdetails
The Handbook of Environmental Chemistry 87
Artikelnr. des Verlages: 978-3-030-12138-9
1st ed. 2020
Seitenzahl: 452
Erscheinungstermin: 6. Mai 2019
Englisch
Abmessung: 241mm x 160mm x 30mm
Gewicht: 830g
ISBN-13: 9783030121389
ISBN-10: 3030121380
Artikelnr.: 54781274
Periphyton inhabiting reeds in polish water ecosystems.- Trends in the phytoplankton variability of the selected Polish lakes.- Biodiversity of zooplankton in Polish small water bodies.- Structure of ciliate, rotifer and crustacean communities in lake systems of northeastern Poland.- Aquatic macroinvertebrate biodiversity in freshwaters in northeastern Poland.- Biocontamination of the aquatic ecosystems of north-eastern Poland.- Cyanobacteria and Toxic Blooms in The Great Mazurian Lakes System: Biodiversity and Toxicity.- Microorganisms as sanitary state bioindicators of flowing waters in Poland.- Sources, occurrence, and environmental risk assessment of antibiotics and antimicrobial-resistant bacteria in aquatic environments of Poland.- Riverine fish fauna in Poland.- Fish and fisheries in the lakes of northeastern Poland.- Freshwater Habitats and Freshwater Dependent Habitats in Poland.- Communities of freshwater macroinvertebrate and fish in mountain streams and rivers of the upper Dunajec catchment (Western Carpathians) including long-term human impact.- Assessment criteria and ecological classification of Polish lakes and rivers - limitations and current state.- Selected aspects of lake restorations in Poland.- Support of the self-purification processes in lakes restored in Poland.- Hypereutrophic lakes and the results of their restoration in Western Poland.- Transformations of wetlands in the N-E Poland postglacial landscape and its relation to lake water quality.- Nature of Polish Tatra Lakes.