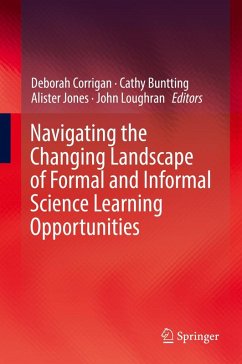 Combining specific contexts, case studies and more general examples, the book examines the science learning landscapes by means of the lens of an ecosystem and the case of the Synergies longitudinal research project. It explores the relationships between school and museum, and relates the lessons learned through encounters with a narwhal. It discusses science communication, school-community partnerships, socioscientific issues, outreach education, digital platforms and the notion of a learning ecology.


Produktdetails
Artikelnr. des Verlages: 978-3-319-89760-8
1st ed. 2018
Erscheinungstermin: 1. Juli 2018
Englisch
Abmessung: 241mm x 160mm x 18mm
Gewicht: 496g
ISBN-13: 9783319897608
ISBN-10: 3319897608
Artikelnr.: 51850450
Navigating the changing landscape of formal and informal science learning opportunities, Deborah Corrigan, Cathy Buntting, Alister Jones & John Loughran.- Viewing Science Learning Through an Ecosystem Lens: A story in two parts, John H. Falk and Lynn D. Dierking.- Pregnant Pauses: Science Mueseums, Schools and a controversial exhibition, Erminia Pedretti & Ana Maria Navas-Iannini.- Encounters with a narwhal: revitalising science education's capacity to affect and be affected, Steve Alsop & Justin Dillon.- Communicating science, Sue Stocklmayer.- Reinvigorating primary school science through school-community partnerships, Kathy Smith, Angela Fitzgerald, Suzanne Deefholts, Sue Jackson, Nicole Sadler, Alan Smith & Simon Lindsay.- Natural disasters as unique socioscientific events: Curricular responses to the New Zealand earthquakes, Léonie Rennie, John Wallace & Grady Venville.- The challenges and opportunities for embracing complex socio-scientific issues as important in learning science: the Murray-Darling River Basin as an example, Peter Fensham Jasper Montana.- Outreach Education: Enhancing the possibilities for every student to learn science, Debra Panizzon, Greg Lancaster & Deborah Corrigan.- Using a digital platform to mediate intentional and incidental science learning, Cathy Buntting, Alister Jones & Bronwen Cowie.- "Meet the Scientist": How pre-service teachers constructed knowledge and identities, Gillian Kidman & Karen Marangio.- Trial-and-error, Googling and talk: Engineering students taking initiative out of class, Elaine Khoo & Bronwen Cowie.- Index.