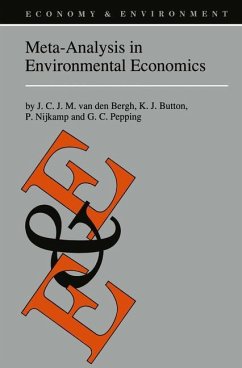 Andere Kunden interessierten sich
auch
für

The first part of the book covers the overall meta-approach methodology for social sciences and economics in particular. This is followed by technical and non-technical discussions of statistical and rough-set techniques for analysis. At appropriate places this is supplemented with reviews of applications in environmental economics and related fields.
In the second part of the book a number of case studies show different aspects of the application of meta-analysis. The research areas considered include, among others, tourism multipliers, air pollution valuation, risk and value of life, pesticide price policy, travel time savings, and transport externality and policy issues. The benefits of the appropriate application of meta-analysis in environmental economics are a better use of existing information and knowledge, removal of some of the subjectivity from analysis and forecasting, and greater clarity as to where future efforts in environmental economic analysis can most gainfully be deployed.
Produktdetails
Economy & Environment 12
Verlag: Springer / Springer Netherlands
Artikelnr. des Verlages: 978-0-7923-4592-3
1997.
Seitenzahl: 236
Erscheinungstermin: 30. Juni 1997
Englisch
Abmessung: 241mm x 160mm x 17mm
Gewicht: 513g
ISBN-13: 9780792345923
ISBN-10: 0792345924
Artikelnr.: 21173522
Preface. Part A: Meta-Analysis and Environmental Policy Evaluation. 1. Environmental Policy Evaluation. 2. Meta-Approaches to Environmental Policy Assessment. 3. Meta-Approaches: Methodological Remarks. 4. Review of Meta-Analysis with Applications to Economics. Part B: Methodology of Meta-Analysis in Environmental Economics. 5. Statistical Meta-Analysis. 6. Measurement and Uncertainty Issues in Environmental Economics and Decision Analysis. 7. Basic Principles of Rough Set Analysis. 8. Technical Issues in Rough Set Analysis. Part C: Application of Meta-Analysis to Environmental Case Studies. 9. Multiplier Effects in Tourist Regions. 10. Air Quality and Property Value. 11. Working Conditions in Industrial Sectors: Valuations of Life. 12. Effectiveness of Pesticide Price Policies in Agriculture. 13. Effectiveness of Traffic Restraint Policies. 14. Impacts of Mobility and Transport Policy. Part D: Conclusions and Guidelines. 15. Summary Conclusions and Guidelines. Index. References.