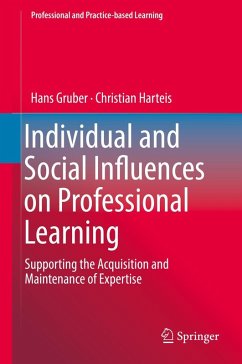 Produktdetails
Professional and Practice-based Learning .24
Artikelnr. des Verlages: 978-3-319-97039-4
1st ed. 2018
Erscheinungstermin: 12. November 2018
Englisch
Abmessung: 241mm x 159mm x 22mm
Gewicht: 506g
ISBN-13: 9783319970394
ISBN-10: 3319970399
Artikelnr.: 52999000
Series editors' foreword.- Preface.- Chapter 1 Supporting the acquisition of expertise: A challenge for research.- Chapter 2 Meta-theoretical perspective on workplace learning research.- Chapter 3 The successful individual.- Chapter 4 The impeded individual.- Chapter 5 Supporting the acquisition of expertise: Fostering individual development and creating professional communities.- Chapter 6 Supporting the maintenance of expertise.- Chapter 7 i-PPP: A model of professional learning.