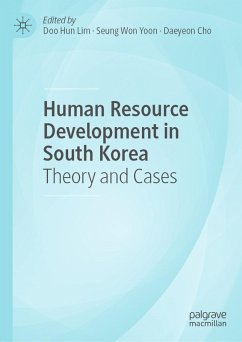 Andere Kunden interessierten sich
auch
für
Produktdetails
Artikelnr. des Verlages: 978-3-030-54065-4
1st ed. 2020
Seitenzahl: 320
Erscheinungstermin: 29. Oktober 2020
Englisch
Abmessung: 216mm x 153mm x 22mm
Gewicht: 524g
ISBN-13: 9783030540654
ISBN-10: 3030540650
Artikelnr.: 59609491
Chapter 1. Themes and Trends of HRD Research in South Korean Context

Doo Hun Lim, Seung Won Yoon, & Daeyeon Cho

This chapter will present the overview and synthesis of all chapters in order to guide the readers throughout the book. Three major sections will be used to describe the purpose and direction of the book: national and social issues of HRD, sector specific perspectives on HRD agenda, and contemporary issues and trends. Implications for practice and research will be briefly discussed for dealing with major issues discussed from selected chapters.

Part I: National and Social Issues of HRD

Chapter 2. NHRD in South Korea

Jihyun Shim, Yoonhee Park, Hui Jung Chu, & Su Jung Choi
The influence of national level policies on HRD practices has been noted significant. In order to identify the detailed information about what constitutes national HRD, this chapter will discuss the definitions of NHRD, its boundary, and a brief review about its role affecting HRD policies and practices in South Korea. The first section of the chapter will introduce the history of Korean national HRD in the following periods: 1960s, 1970s, 1980s, 1990s, 2000s and afterwards. Also, for each period, we will provide economic development, responding NHRD policies for economic development, statistics, and NHRD outcome measures. The second section will describe how Korean national HRD is deployed in terms of its systematic approach, implementation, administration, and evaluation aspects. The next section will comprise explanation on current laws and regulations overarching Korean national HRD. Also, how Korean national HRD policies are connected to labor market policies along with its achievements will be explained. Lastly, challenges and issues of recent national HRD in Korea will be presented including the limitations and new issues emerging in the labor market and industry.