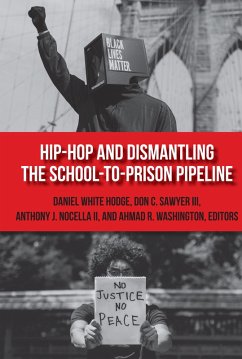 Andere Kunden interessierten sich
auch
für
Hip-Hop and Dismantling the School-to-Prison Pipeline
was created for K-12 students in hopes that they find tangible strategies for creating affirming communities where students, parents, advocates and community members collaborate to compose liberating and just frameworks that effectively define the school-to-prison pipeline and identify the nefarious ways it adversely affects their lives. This book is for educators, activists, community organizers, teachers, scholars, politicians, and administrators who we hope will join us in challenging the predominant preconceived notion held by many educators that Hip-Hop has no redeemable value. Lastly, the authors/editors argue against the understanding of Hip-Hop studies as primarily an academic endeavor situated solely in the academy. They understand the fact that people on streets, blocks, avenues, have been living and theorizing about Hip-Hop since its inception. This important critical book is an honest, thorough, powerful, and robust examination of the ingenious and inventive ways people who have an allegiance to Hip-Hop work tirelessly, in various capacities, to dismantle the school-to-prison pipeline.
---
Dieser Download kann aus rechtlichen Gründen nur mit Rechnungsadresse in A, D ausgeliefert werden.
Produktdetails
Verlag: Peter Lang
Seitenzahl: 148
Erscheinungstermin: 13.11.2020
Englisch
ISBN-13: 9781433174421
Artikelnr.: 60705290
H.A. Jabar Odokhan-El: Foreword - Daniel White Hodge/Don C. Sawyer III/Anthony J. Nocella II/Ahmad R. Washington: Introduction. Hip Hop, the School-to-Prison Pipeline, and #Noyouthinprison - Valeria Benabdallah: Hip Hop in the Time of Trauma - Anthony J. Nocella II/Kim Socha: The New Eugenics: Challenging Urban Education and Special Education and the Promise of Hip Hop Pedagogy - Travis Harris/Daniel White Hodge: They Schools: Hip Hop as a Pedagogical Process for Youth in Juvenile Detention Centers - Anthony J. Nocella II/Priya Parmar/Don C. Sawyer III/ Michael Cermak: Hip Hop, Food Justice, and Environmental Justice - Ahmad Washington: Contesting the School-to-Prison Pipeline Through Political Rap Music: An Interview with Skipp Coon - Anthony J. Nocella II: Transforming Justice and Hip Hop Activism in Action - Torie Weiston-Serdan/Arash Daneshzadeh: Soulja's Story: Critical Mentoring as a Site for Street Activism - Contributors - Index.