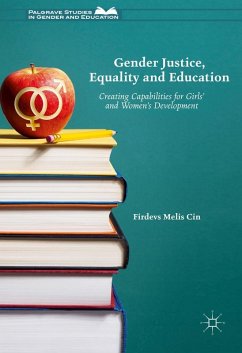 Produktdetails
Palgrave Studies in Gender and Education
Artikelnr. des Verlages: .978-3-319-39103-8, 978-3-319-39103-8
1st ed. 2017
Erscheinungstermin: 28. Februar 2017
Englisch
Abmessung: 218mm x 154mm x 20mm
ISBN-13: 9783319391038
ISBN-10: 3319391038
Artikelnr.: 44838302
PART I.- Chapter 1. Introduction: Conceptualising Gender Justice.- Chapter 2. Understanding(s) of Education, Gender Justice and Human Development.- PART II.- Chapter 3. Understanding Context: Political History, Gender Politics and Education Provision in Turkey.- Chapter 4. The Women and Their Micro-Contexts.- Chapter 5. Exploring Gender Inequalities in Personal Spaces and Private Sphere.- Chapter 6. Education and Changing Lives.- Chapter 7. Working for Social and Gender Justice.- PART III.- Chapter 8. Conclusion: A Capabilities-based Human Development Approach to Gender Justice and Education in Turkey.