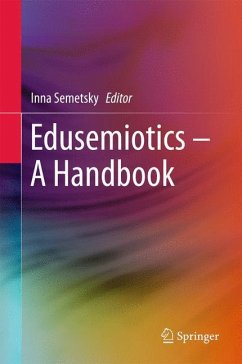 Andere Kunden interessierten sich
auch
für


The book's emphasis is on educational theory as based on semiotic philosophy: as such, it challenges the current conception of semiotics in education as merely a sub-branch of applied semiotics. It presents edusemiotics as a novel unified conceptual framework at the interface of theoretical semiotics and educational philosophy, based on both theoretical and empirical studies from around the world.

The chapters in this handbook also bring to the fore the intellectual legacy of Charles S. Peirce, John Dewey, Gilles Deleuze, Umberto Eco, Julia Kristeva, Mikhail Bakhtin, Paul Ricoeur, Martin Heidegger and other thinkers, pointing out the implications of edusemiotics for meaningful pedagogy and experiential learning in diverse contexts.

Produktdetails
Verlag: Springer / Springer, Berlin
Artikelnr. des Verlages: 978-981-10-1493-2
1st ed. 2017
Erscheinungstermin: 25. Oktober 2016
Englisch
Abmessung: 241mm x 160mm x 23mm
ISBN-13: 9789811014932
ISBN-10: 9811014930
Artikelnr.: 44899799
1 Introduction: A primer on edusemiotics.- 2 Academic culture and the science of signs.- 3 'Diagrammatic Teaching': The role of iconic signs in meaningful pedagogy.- 4 Semiotics in Mathematics Education: Topological foundations and diagrammatic methods.- 5 Metaphors, Models, and Diagrams in Educational Theories and Practices.- 6 Education and Reasoning: Advancing a Peircean edusemiotic.- 7 No surprise in the 'Surprise Effect' of Values Pedagogy: An edusemiotic analysis.- 8 Semiotics and meaning in the aims of education in Greece.- 9 Edusemiotics, Existential Semiotics and Existential Pedagogy.- 10 The Embodied mind: Education as the transformation of habits.- 11 Academic Pathologies and Anxieties of Knowing.- 12 Interpreting ourselves.- 13 The Role of the Reader: Remembering the possible worlds of Umberto Eco.- 14 Reading History: Education, semiotics and edusemiotics.- 15 Heteroglossia as a dialogic route to metaphoricity in education.- 16 Knowledge as a sign: An edusemiotic theory of learning heritage language.