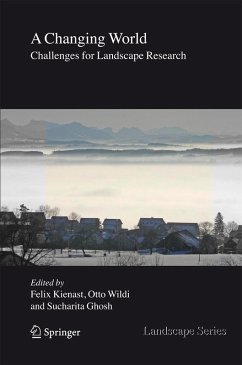 Produktdetails
Landscape Series Vol.8
Verlag: Springer Netherlands
Artikelnr. des Verlages: 11588986
2007
Seitenzahl: 308
Erscheinungstermin: 6. März 2007
Englisch
Abmessung: 235mm x 155mm x 24mm
Gewicht: 650g
ISBN-13: 9781402044342
ISBN-10: 1402044348
Artikelnr.: 22551170
Foreword.- Preface.- 1. Change and transformation: a synthesis; F. Kienast et al.- Part 1: Value systems - Major drivers of landscape dynamics. 2. Value systems: drivers of human-landscape interactions; M. Buchecker et al.- 3. The role of value systems in biodiversity research; P. Duelli et al.- 4. The meaning of 'Landscape' - an exegesis of Swiss government texts; P. Longatti, T. Dalang.- 5. Two aspects of the human-landscape relationship; M. Hunziker et al.- Part 2: Ecological observations and processes. 6. Modern remote sensing for environmental monitoring of landscape states and trajectories; N.E. Zimmermann et al.- 7. A large-scale, long-term view on collecting and sharing of landscape data; A. Lanz et al.- 8. On selected issues and challenges in dendroclimatology; J. Esper et al.- 9. Using the past to understand the present land use and land cover; M. Bürgi et al.- 10. Integrating population genetics with landscape ecology to infer spatio-temporal processes; R. Holderegger et al.- 11. Landscape permeability: from individual dispersal to population persistence; W. Suter et al.- Part 3: Spatial pattern recognition, time series analysis and dynamic modeling. 12. Identifying and quantifying landscape patterns in space and time; J. Bolliger et al.- 13. Essay on the study of the vegetation process; O. Wildi, L. Orlóci.- 14. Statistical analysis of landscape data: space-for-time, probability surfaces and discovering species; S. Ghosh, O. Wildi.- 15. Memory, non-stationarity and trend: analysis of environmental time series;S. Ghosh et al.- 16. Model up-scaling in landscape research; H. Lischke et al.- 17. Dynamic spatio-temporal landscape models; H. Lischke et al.-
---
Foreword.
Preface.
1. Change and transformation: a synthesis; F. Kienast et al.
Part 1: Value systems
Major drivers of landscape dynamics. 2. Value systems: drivers of human
landscape interactions; M. Buchecker et al.
3. The role of value systems in biodiversity research; P. Duelli et al.
4. The meaning of 'Landscape'
an exegesis of Swiss government texts; P. Longatti, T. Dalang.
5. Two aspects of the human
landscape relationship; M. Hunziker et al.
Part 2: Ecological observations and processes. 6. Modern remote sensing for environmental monitoring of landscape states and trajectories; N.E. Zimmermann et al.
7. A large
scale, long
term view on collecting and sharing of landscape data; A. Lanz et al.
8. On selected issues and challenges in dendroclimatology; J. Esper et al.
9. Using the past to understand the present land use and land cover; M. Bürgi et al.
10. Integrating population genetics with landscape ecology to infer spatio
temporal processes; R. Holderegger et al.
11. Landscape permeability: from individual dispersal to population persistence; W. Suter et al.
Part 3: Spatial pattern recognition, time series analysis and dynamic modeling. 12. Identifying and quantifying landscape patterns in space and time; J. Bolliger et al.
13. Essay on the study of the vegetation process; O. Wildi, L. Orlóci.
14. Statistical analysis of landscape data: space
for
time, probability surfaces and discovering species; S. Ghosh, O. Wildi.
15. Memory, non
stationarity and trend: analysis of environmental time series;S. Ghosh et al.
16. Model up
scaling in landscape research; H. Lischke et al.
17. Dynamic spatio
temporal landscape models; H. Lischke et al.

From the reviews:
"This latest book in Springer's Landscape Series looks at some of the emerging fields and new challenges in landscape research. ... Drawing on the expertise of an interdisciplinary team, this collection provides a valuable reference for researchers in landscape ecology, conservation biology, ecological modeling, and related fields." (Abstracts of Public Administration, Development, and Environment, 2007)
"This book ... provides the scientific community with some eye-opening material by including the importance of social dimensions in the dominant view of modern landscape ecology in North America. ... In conclusion, I found this book very stimulating and valuable for landscape researchers, students and practitioners. I foresee that this text will play an important role in the history of landscape ecology, just like those of pioneer ecologists in the first half of the twentieth century." (Jiquan Chen, Landscape Ecology, Vol. 23, 2008)
"'A Changing World, Challenges for Landscape Research,' ... includes a collection of contemporary hot topics currently studied by Swiss landscape ecologists. ... The book contains papers that address frontier research issues as well as reviews of basic concepts and theories of landscape ecology. In general, the papers are of very good quality and the topics are worthy of publication. ... I can recommend this book to both researchers and students in landscape ecology." (Hong S. He, Landscape Ecology,
Vol. 23, 2008)