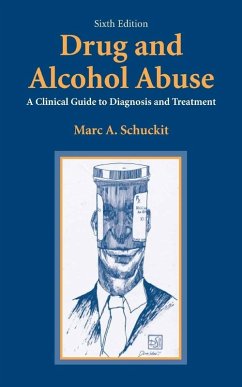 Geräte: PC

ohne Kopierschutz

Größe: 1.8MB
Andere Kunden interessierten sich
auch
für
Schuckit combines his experience as practitioner, researcher, and teacher to give professionals and students across the health and mental health disciplines a working knowledge of drug-related pathology, beginning with pharmacology, drug mechanisms, and genetic factors. And the Sixth Edition is as accessible as its predecessors, striking the right comfort level for the classroom or the emergency room.
-Clinical/emergency orientation suited to both chronic misuse and acute situations
-Coverage reflects current trends in alcohol, drug, and multidrug use, abuse, and dependence
-Concise chapters for quick reference
-Updated bibliography-approximately 80% of citations are post-2000
-Diagnostic information reflects upcoming changes to the DSM
-Latest strategies in treatment (psychological and pharmacological) and rehabilitation
All material is organized for ease of use, whether the reader needs fast answers in a crisis, seeks new ideas for helping long-term patients or clients, or is just becoming familiar with the different drug classifications. This new edition offers expanded knowledge of a wide-ranging problem and a growing and clinically important population, and authoritative suggestions for effective care.
---
Dieser Download kann aus rechtlichen Gründen nur mit Rechnungsadresse in A, B, BG, CY, CZ, D, DK, EW, E, FIN, F, GR, HR, H, IRL, I, LT, L, LR, M, NL, PL, P, R, S, SLO, SK ausgeliefert werden.
"This is an excellent text for the diagnosis and treatment of substance abuse/dependence problems....The chapters are concise and the information delivered in a clear, precise manner. The two chapters on alcohol are particularly well donw....Overall, a very handy reference to have on your shelf. 5 stars!" Brett C. Pyler, MD, Northwestern Memorial Hospital. Published in Doody's Book Review "In conclusion, Drug and Alcohol Abuse should be on the library shelf of any professional who deals with substance abuse or dependence issues. It also serves as a very helpful guide for students who are interested in pursuing a discipline that will involve working with individuals with substance use disorders. Dr. Schuckit has done a wonderful job in his sixth edition... ." Lon R. Hays, MD, MBA, Department of Psychiatry at the University of Kentucky Medical Center. Published in The American Journal on Addictions.