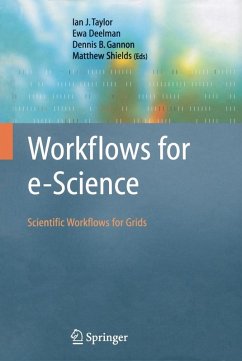 This is a timely book presenting an overview of the current state-of-the-art within established projects, presenting many different aspects of workflow from users to tool builders. It provides an overview of active research, from a number of different perspectives. It includes theoretical aspects of workflow and deals with workflow for e-Science as opposed to e-Commerce. The topics covered will be of interest to a wide range of practitioners.


Produktdetails
Verlag: Springer London
Erscheinungstermin: 31.12.2007
Englisch
ISBN-13: 9781846287572
Artikelnr.: 37345101
Scientific versus Business Workflows.
Scientific versus Business Workflows.
Application and User Perspective.
Generating Complex Astronomy Workflows.
A Case Study on the Use of Workflow Technologies for Scientific Analysis: Gravitational Wave Data Analysis.
Workflows in Pulsar Astronomy.
Workflow and Biodiversity e
Science.
Ecological Niche Modeling Using the Kepler Workflow System.
Case Studies on the Use of Workflow Technologies for Scientific Analysis: The Biomedical Informatics Research Network and the Telescience Project.
Dynamic, Adaptive Workflows for Mesoscale Meteorology.
SCEC CyberShake Workflows
Automating Probabilistic Seismic Hazard Analysis Calculations.
Workflow Representation and Common Structure.
Control
Versus Data
Driven Workflows.
Component Architectures and Services: From Application Construction to Scientific Workflows.
Petri Nets.
Adapting BPEL to Scientific Workflows.
Protocol
Based Integration Using SSDL and ?
Calculus.
Workflow Composition: Semantic Representations for Flexible Automation.
Virtual Data Language: A Typed Workflow Notation for Diversely Structured Scientific Data.
Frameworks and Tools: Workflow Generation, Refinement, and Execution.
Workflow
Level Parametric Study Support by MOTEUR and the P
GRADE Portal.
Taverna/myGrid: Aligning a Workflow System with the Life Sciences Community.
The Triana Workflow Environment: Architecture and Applications.
Java CoG Kit Workflow.
Workflow Management in Condor.
Pegasus: Mapping Large
Scale Workflows to Distributed Resources.
ICENI.
Expressing Workflow in the Cactus Framework.
Sedna: A BPEL
Based Environment for Visual Scientific Workflow Modeling.
ASKALON: A Development and Grid Computing Environment for Scientific Workflows.
Future Requirements.
Looking into the Future of Workflows: The Challenges Ahead.