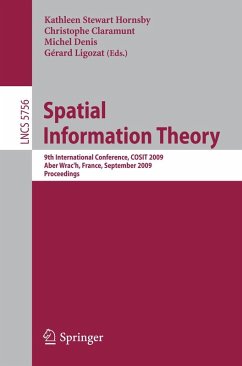 Andere Kunden interessierten sich
auch
für
Produktdetails
Lecture Notes in Computer Science Vol.5756
Verlag: Springer, Berlin
Artikelnr. des Verlages: 12738410
2009
Erscheinungstermin: 3. September 2009
Englisch
Abmessung: 235mm x 155mm x 27mm
Gewicht: 780g
ISBN-13: 9783642038310
ISBN-10: 364203831X
Artikelnr.: 27005245
Cognitive Processing and Models for Spatial Cognition.
A Conceptual Model of the Cognitive Processing of Environmental Distance Information.
Spatial Cognition of Geometric Figures in the Context of Proportional Analogies.
Are Places Concepts? Familarity and Expertise Effects in Neighborhood Cognition.
Semantic Modeling.
A Metric Conceptual Space Algebra.
Grounding Geographic Categories in the Meaningful Environment.
Terabytes of Tobler: Evaluating the First Law in a Massive, Domain
Neutral Representation of World Knowledge.
Spatial Reasoning.
Merging Qualitative Constraint Networks Defined on Different Qualitative Formalisms.
Semi
automated Derivation of Conceptual Neighborhood Graphs of Topological Relations.
Exploiting Qualitative Spatial Constraints for Multi
hypothesis Topological Map Learning.
Comparing Relations with a Multi
holed Region.
Spatial Cognition.
The Endpoint Hypothesis: A Topological
Cognitive Assessment of Geographic Scale Movement Patterns.
Evaluating the Effectiveness and Efficiency of Visual Variables for Geographic Information Visualization.
SeaTouch: A Haptic and Auditory Maritime Environment for Non Visual Cognitive Mapping of Blind Sailors.
Spatial Knowledge.
Assigning Footprints to Dot Sets: An Analytical Survey.
Mental Tectonics
Rendering Consistent ?Maps.
To Be and Not To Be: 3
Valued Relations on Graphs.
Map Algebraic Characterization of Self
adapting Neighborhoods.
Scene and Visibility Modeling.
Scene Modelling and Classification Using Learned Spatial Relations.
A Qualitative Approach to Localization and Navigation Based on Visibility Information.
Showing Where To Go by Maps or Pictures: An Empirical Case Study at Subway Exits.
Spatial Modeling.
The Abduction of Geographic Information Science: Transporting Spatial Reasoning to the Realm of Purpose and Design.
An Algebraic Approach to Image Schemas for Geographic Space.
Spatio
terminological Inference for the Design of Ambient Environments.
Events and Processes.
Defining Spatial Entropy from Multivariate Distributions of Co
occurrences.
Case
Based Reasoning for Eliciting the Evolution of Geospatial Objects.
Composing Models of Geographic Physical Processes.
Route Planning.
Decentralized Time Geography for Ad
Hoc Collaborative Planning.
Adaptable Path Planning in Regionalized Environments.
An Analysis of Direction and Motion Concepts in Verbal Descriptions of Route Choices.
The Role of Angularity in Route Choice.