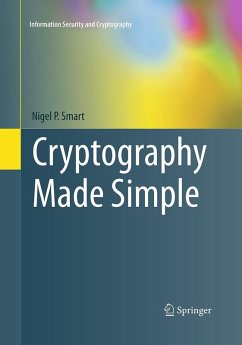 Produktdetails
Information Security and Cryptography
Artikelnr. des Verlages: .978-3-319-37309-6
Softcover reprint of the original 1st ed. 2016
Seitenzahl: 496
Erscheinungstermin: 23. August 2016
Englisch
Abmessung: 254mm x 178mm x 26mm
Gewicht: 935g
ISBN-13: 9783319373096
ISBN-10: 3319373099
Artikelnr.: 48938284
Modular Arithmetic, Groups, Finite Fields and Probability.- Elliptic Curves.- Historical Ciphers.- The Enigma Machine.- Information Theoretic Security.- Historical Stream Ciphers.- Modern Stream Ciphers.- Block Ciphers.- Symmetric Key Distribution.- Hash Functions and Message Authentication Codes.- Basic Public Key Encryption Algorithms.- Primality Testing and Factoring.- Discrete Logarithms.- Key Exchange and Signature Schemes.- Implementation Issues.- Obtaining Authentic Public Keys.- Attacks on Public Key Schemes.- Definitions of Security.- Complexity Theoretic Approaches.- Provable Security: With Random Oracles.- Hybrid Encryption.- Provable Security: Without Random Oracles.- Secret Sharing Schemes.- Commitments and Oblivious Transfer.- Zero-Knowledge Proofs.- Secure Multiparty Computation.
"The goal of cryptography is to obfuscate data for unintended recipients. … The book is divided into four parts. … The book is very comprehensive, and very accessible for dedicated students." (Klaus Galensa, Computing Reviews, computingreviews.com, October, 2016)

"Cryptography made simple is a textbook that provides a broad coverage of topics that form an essential working knowledge for the contemporary cryptographer. It is particularly suited to introducing graduate and advanced undergraduate students in computer science to the concepts necessary for understanding academic cryptography and its impact on real-world practice, though it will also be useful for mathematicians or engineers wishing to gain a similar perspective on this material." (Maura Beth Paterson, Mathematical Reviews, July, 2016)

"This is a very thorough introduction to cryptography, aimed at lower-division undergraduates. It is an engineering textbook that uses modern mathematical terminology (such as groups and finite fields). … Bottom line: really for engineers, and a useful book if used carefully; the organization makes is easy to get overwhelmed by the background material before you get to the 'good stuff', and even the good stuff has an overwhelming amount of detail." (Allen Stenger, MAA Reviews, maa.org, June, 2016)

"This very thorough book by Smart (Univ. of Bristol, UK) is aimed at graduate students and advanced undergraduates in mathematics and computer science and intended to serve as a bridge to research papers in the field. … Summing Up: Recommended. Upper-division undergraduates through professionals/practitioners." (C. Bauer, Choice, Vol. 53 (10), June, 2016)