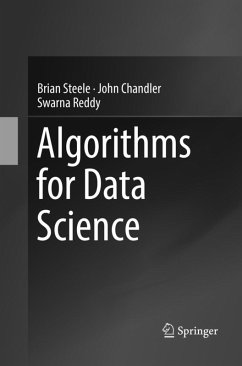 Produktdetails
Artikelnr. des Verlages: .978-3-319-83373-6
Softcover reprint of the original 1st ed. 2016
Seitenzahl: 456
Erscheinungstermin: 7. Juli 2018
Englisch
Abmessung: 236mm x 159mm x 27mm
Gewicht: 694g
ISBN-13: 9783319833736
ISBN-10: 3319833731
Artikelnr.: 53570674
Introduction.- Data Mapping and Data Dictionaries.- Scalable Algorithms and Associative Statistics.- Hadoop and MapReduce.- Data Visualization.- Linear Regression Methods.- Healthcare Analytics.- Cluster Analysis.- k-Nearest Neighbor Prediction Functions.- The Multinomial Naive Bayes Prediction Function.- Forecasting.- Real-time Analytics.
"This 430-page book contains an excellent collection of information on the subject of practical algorithms used in data science. The discussion of each algorithm starts with some basic concepts, followed by a tutorial with real datasets and detailed code examples in Python or R. Each chapter has a set of exercise problems so readers can practice the concepts learned in the chapter. ... a good reference for practitioners, or a good textbook for graduate or upper-class undergraduate students." (Xiannong Meng, Computing Reviews, September, 2017) "This textbook on practical data analytics unites fundamental principles, algorithms, and data. ... this book is devoted to upper-division undergraduate and graduate students in mathematics, statistics, and computer science. It is intended for a one- or two-semester course in data analytics and reflects the authors' research experience in data science concepts and the teaching skills in various areas. ... The text is eminently suitable for self-study and an exceptional resource for practitioners." (Krzysztof J. Szajowski, zbMATH 1367.62005, 2017)