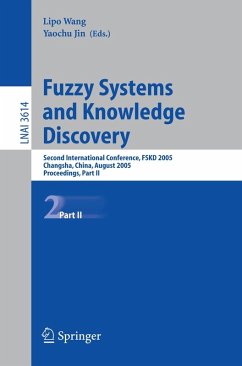 Andere Kunden interessierten sich
auch
für
---
Dieser Download kann aus rechtlichen Gründen nur mit Rechnungsadresse in A, B, BG, CY, CZ, D, DK, EW, E, FIN, F, GR, HR, H, IRL, I, LT, L, LR, M, NL, PL, P, R, S, SLO, SK ausgeliefert werden.
Produktdetails
Verlag: Springer-Verlag GmbH
Seitenzahl: 1312
Erscheinungstermin: 25. August 2005
Englisch
ISBN-13: 9783540318286
Artikelnr.: 44224281
Dimensionality Reduction.- Dimensionality Reduction for Semi-supervised Face Recognition.- Cross-Document Transliterated Personal Name Coreference Resolution.- Difference-Similitude Matrix in Text Classification.- A Study on Feature Selection for Toxicity Prediction.- Application of Feature Selection for Unsupervised Learning in Prosecutors' Office.- A Novel Field Learning Algorithm for Dual Imbalance Text Classification.- Supervised Learning for Classification.- Feature Selection for Hyperspectral Data Classification Using Double Parallel Feedforward Neural Networks.- Robust Nonlinear Dimension Reduction: A Self-organizing Approach.- An Effective Feature Selection Scheme via Genetic Algorithm Using Mutual Information.- Pattern Recognition and Trend Analysis.- Pattern Classification Using Rectified Nearest Feature Line Segment.- Palmprint Identification Algorithm Using Hu Invariant Moments.- Generalized Locally Nearest Neighbor Classifiers for Object Classification.- Nearest Neighbor Classification Using Cam Weighted Distance.- A PPM Prediction Model Based on Web Objects' Popularity.- An On-line Sketch Recognition Algorithm for Composite Shape.- Axial Representation of Character by Using Wavelet Transform.- Representing and Recognizing Scenario Patterns.- A Hybrid Artificial Intelligent-Based Criteria-Matching with Classification Algorithm.- Auto-generation of Detection Rules with Tree Induction Algorithm.- Hand Gesture Recognition System Using Fuzzy Algorithm and RDBMS for Post PC.- An Ontology-Based Method for Project and Domain Expert Matching.- Pattern Classification and Recognition of Movement Behavior of Medaka (Oryzias Latipes) Using Decision Tree.- A New Algorithm for Computing the Minimal Enclosing Sphere in Feature Space.- Y-AOI: Y-Means Based Attribute Oriented Induction Identifying Root Cause for IDSs.- New Segmentation Algorithm for Individual Offline Handwritten Character Segmentation.- A Method Based on the Continuous Spectrum Analysis for Fingerprint Image Ridge Distance Estimation.- A Method Based on the Markov Chain Monte Carlo for Fingerprint Image Segmentation.- Unsupervised Speaker Adaptation for Phonetic Transcription Based Voice Dialing.- A Phase-Field Based Segmentation Algorithm for Jacquard Images Using Multi-start Fuzzy Optimization Strategy.- Dynamic Modeling, Prediction and Analysis of Cytotoxicity on Microelectronic Sensors.- Generalized Fuzzy Morphological Operators.- Signature Verification Method Based on the Combination of Shape and Dynamic Feature.- Study on the Matching Similarity Measure Method for Image Target Recognition.- 3-D Head Pose Estimation for Monocular Image.- The Speech Recognition Based on the Bark Wavelet Front-End Processing.- An Accurate and Fast Iris Location Method Based on the Features of Human Eyes.- A Hybrid Classifier for Mass Classification with Different Kinds of Features in Mammography.- Data Mining Methods for Anomaly Detection of HTTP Request Exploitations.- Exploring Content-Based and Image-Based Features for Nude Image Detection.- Collision Recognition and Direction Changes Using Fuzzy Logic for Small Scale Fish Robots by Acceleration Sensor Data.- Fault Diagnosis Approach Based on Qualitative Model of Signed Directed Graph and Reasoning Rules.- Visual Tracking Algorithm for Laparoscopic Robot Surgery.- Toward a Sound Analysis System for Telemedicine.- Other Topics in FSKD Methods.- Structural Learning of Graphical Models and Its Applications to Traditional Chinese Medicine.- Study of Ensemble Strategies in Discovering Linear Causal Models.- The Entropy of Relations and a New Approach for Decision Tree Learning.- Effectively Extracting Rules from Trained Neural Networks Based on the New Measurement Method of the Classification Power of Attributes.- ...