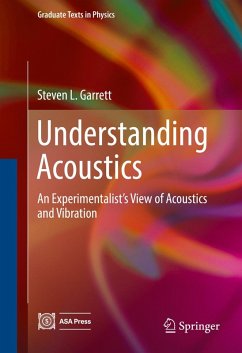 Andere Kunden interessierten sich
auch
für
---
Dieser Download kann aus rechtlichen Gründen nur mit Rechnungsadresse in A, B, BG, CY, CZ, D, DK, EW, E, FIN, F, GR, HR, H, IRL, I, LT, L, LR, M, NL, PL, P, R, S, SLO, SK ausgeliefert werden.
Produktdetails
Verlag: Springer-Verlag GmbH
Seitenzahl: 896
Erscheinungstermin: 24. Februar 2017
Englisch
ISBN-13: 9783319499789
Artikelnr.: 53034049
1. Comfort for the Computationally Crippled.- Part I-Vibrations.- 2. The Simple Harmonic Oscillator.- 3. String Theory.- 4. Elasticity of Solids.- 5. Modes of Bars.- 6. Membranes, Plates, and Microphones.- Part II-Fluids.- 7. Ideal Gas Laws.- 8. Non-dissipative Lumped Elements.- 9. Dissipative Hydrodynamics.- 10. One-dimensional propagation.- 11. Reflection, Transmission and Refraction.- 12. Radiation and Scattering.- 13. Three-Dimensional Enclosures.- 14. Attenuation of Sound.- PART III - Extensions.- 15. Nonlinear acoustics.- Appendix.- Index.
"Steven Garrett's new book ... is a substantial, highly readable graduate textbook on sound and vibration. ... Garrett has managed to cover his material in a fresh and easy-to-follow way. ... I really liked this book for its attention to detail, its readability, and the frequent asides and footnotes. ... Understanding Acoustics is now my recommended text." (Phillip Joseph, Physics Today, October, 2017)


"The author achieves his stated goal in helping researchers know when their computer simulations might contain errors by using test cases with numerous examples. ... well suited for teaching acoustics at the undergraduate and graduate level and is an excellent reference for those interested in the physical aspects of acoustics in strings, membranes, and bars. As such it is a good reference for those interested in speakers and audio technology, musical acoustics, physical acoustics, and a wide range of applications." (James M. Gelb, Journal of the Audio Engineering Society, Vol. 69 (5), 2021)