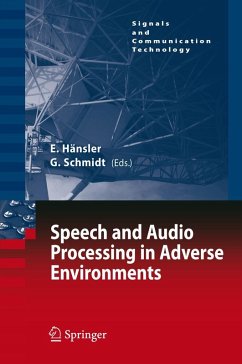 Andere Kunden interessierten sich
auch
für


Considerable amount of space is covered by multi-microphone systems, specific approaches for noise reduction, and evaluations of speech signals and speech processing systems.

Multi-microphone systems include automatic calibration of microphones, localisation of sound sources, and source separation procedures. Also covered are recent approaches to the problem of adaptive echo and noise suppression. A novel solution allows the design of filter banks exhibiting bands spaced according to the Bark scale und especially short delay times. Furthermore, a method for engine noise reduction and proposals for improving the signal/noise ratio based on partial signal reconstruction or using a noise reference are reported. A number of contributions deal with speech quality. Besides basic considerations for quality evaluation specific methods for bandwidth extension of telephone speech are described. Procedures to reduce the reverberation of audio signals can help to increase speech intelligibility and speech recognition rates.

In addition, solutions for specific applications in speech and audio signal processing are reported including, e.g., the enhancement of audio signal reproduction in automobiles and the automatic evaluation of hands-free systems and hearing aids.
---
Users of signal processing systems are never satis?ed with the system they currently use. They are constantly asking for higher quality, faster perf- mance, more comfort and lower prices. Researchers and developers should be appreciative for this attitude. It justi?es their constant e?ort for improved systems. Better knowledge about biological and physical interrelations c- ing along with more powerful technologies are their engines on the endless road to perfect systems. This book is an impressive image of this process. After "Acoustic Echo 1 and Noise Control" published in 2004 many new results lead to "Topics in 2 Acoustic Echo and Noise Control" edited in 2006 . Today - in 2008 - even morenew?ndingsandsystemscouldbecollectedinthisbook.Comparingthe contributions in both edited volumes progress in knowledge and technology becomesclearlyvisible:Blindmethodsandmultiinputsystemsreplace"h- ble" low complexity systems. The functionality of new systems is less and less limited by the processing power available under economic constraints. The editors have to thank all the authors for their contributions. They cooperated readily in our e?ort to unify the layout of the chapters, the ter- nology, and the symbols used. It was a pleasure to work with all of them. Furthermore, it is the editors concern to thank Christoph Baumann and the Springer Publishing Company for the encouragement and help in publi- ing this book.