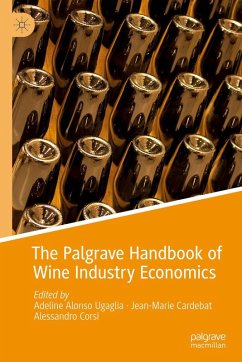 Andere Kunden interessierten sich
auch
für


This comprehensive volume is essential reading for students, researchers and professionals in the wine industry.


Produktdetails
Artikelnr. des Verlages: 978-3-319-98632-6
1st ed. 2019
Seitenzahl: 568
Erscheinungstermin: 27. März 2019
Englisch
Abmessung: 241mm x 160mm x 36mm
Gewicht: 996g
ISBN-13: 9783319986326
ISBN-10: 3319986325
Artikelnr.: 53160918
Chapter 1: Introduction.Part I: Structure of the Wine Sectors Worldwide.Chapter 2: The French Wine Industry.Chapter 3: The Italian Wine Industry.Chapter 4: The Spanish Wine Industry.Chapter 5: The US Wine Industry.Chapter 6: The Australian Wine Industry.Chapter 7: The Argentine Wine Industry.Chapter 8: The Chilean Wine Industry.Chapter 9: The South African Wine Industry.Chapter 10: The Chinese Wine Industry.Part II. Regulations in the Wine Sector.Chapter 11:Introduction.Chapter 12: The International Wine Organizations and Plurilateral Agreements, and the Dialectic between Harmonization and Mutual Recognition of Standards.Chapter 13: The European Wine Policies: Regulations and Strategies.Chapter 14: Barriers to Wine Trade.- Part III: Diversity Of Organization In The Wine Industry.Chapter 15. Introduction: The Diversity of Organizational Patterns in the Wine Industry.Chapter 16: The Organization of Vineyards and Wineries.Chapter 17: Wine Co-operatives and Territorial Anchoring.Chapter 18: Diversity and a Shifting Power Balance: Negociants and Winegrowers in Bordeaux.Part IV: Backward Vertical Integration.Chapter 19: Introduction: Outsourcing vs. Integration: A Key Trade-off for Wine Companies?.Chapter 20: To Make or to Buy? A Managerial Trade-off of Wine-Making Process in Burgundy Vineyards.Chapter 21: Financial Constraints and Strategies of Vertical Integration in French Wine Farms and Co-operatives.Chapter 22: The Prosecco Industry Structure: A Driver of Success?.Chapter 23: International Perspectives on Backward Vertical Integration.Part V: Efficiency of the Business Models in the Different Wine Industries.Chapter 24: Introduction: Does a National Model Exist which Favours Trade Performance?.Chapter 25: Individual and Collective Reputations in the Wine Industry.Chapter 26: The Chilean Wine Cluster.Chapter 27: Producing and Consuming Local: Switzerland as a Local Market.Chapter 28: Conclusion: Synthesis & Economic Perspectives for the Wine Industry Worldwide.