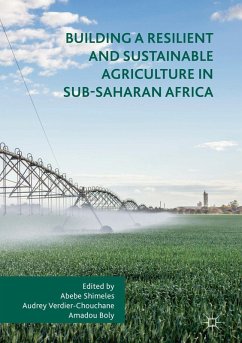 Andere Kunden interessierten sich
auch
für


From the impact of Bioenergy crop adoption and Drought Index Insurance to Agro-Industrialization, this volume is important reading for individual researchers, academic associations and professional bodies interested in African agricultural development.


Produktdetails
Artikelnr. des Verlages: 978-3-319-76221-0
1st ed. 2018
Seitenzahl: 332
Erscheinungstermin: 14. Juni 2018
Englisch
Abmessung: 216mm x 153mm x 22mm
Gewicht: 556g
ISBN-13: 9783319762210
ISBN-10: 3319762214
Artikelnr.: 50736235
Chapter 1: Understanding the Challenges of the Agriculture Sector in Sub-Saharan Africa. Part I - Improving Agricultural Productivity. Chapter 2: Improved Seeds and Agricultural Productivity of Family Farms in Cameroon. Chapter 3: Breaking the Traditional Trap: Assessing Drivers of Modern Technology Adoption by Smallholder Farmers in Hurungwe District, Zimbabwe. Chapter 4: Input Utilization and Agricultural Labour Productivity: A Gender Analysis. Chapter 5: Evaluation of Women's On-Farm Trial of Drought Tolerant Maize in Southern Guinea Savannah Agro-Ecological Zone of Nigeria. Chapter 6: Impact of Bioenergy Crop Adoption on Total Crop Incomes of Farmers in Northern Ghana: The Case of Jatropha Curcas. Part II - Addressing Climate Change Challenges. Chapter 7: Profitability in a Sustainable Agricultural Production System: An Approach by the Soil and Water Conservation. Chapter 8: Land Tenure and Communities' Vulnerability to Climate Shocks: Insights from the Niger Basin of Benin. Chapter 9: Impact of Drought Index Insurance on Supplemental Irrigation: A Randomized Controlled Trial Experimental Evidence in Northern Ghana. Part III - Promoting Agro-Industrialization. Chapter 10: Does the Development of the Agricultural Sector Affect the Manufacturing Sector?. Chapter 11: Transforming African Agriculture through Special Economic Zones: Opportunities and Challenges. Chapter 12: Global Value Chains and Upmarket of ECOWAS countries. Chapter 13: Enhancing the Resilience and Sustainability of the Agriculture Sector in Sub-Saharan Africa.