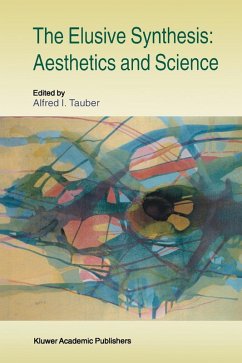 Andere Kunden interessierten sich
auch
für
Produktdetails
Boston Studies in the Philosophy and History of Science
Verlag: Springer Netherlands
1997
Seitenzahl: 356
Erscheinungstermin: 31. Oktober 1997
Englisch
Abmessung: 240mm x 160mm x 19mm
Gewicht: 603g
ISBN-13: 9780792347637
ISBN-10: 0792347633
Artikelnr.: 23908886
The Aesthetic Construction of Darwin's Theory
D. Kohn. The Sciences and the Arts Share a Common Aesthetic
R.S. Root-Bernstein. 3. Beautiful Experiments in the Life Sciences
F. Holmes. 4. Abstract Painting and Astronomical Image Processing
M. Lynch, S.Y. Edgerton, Jr. 5. Looking at Embryos: The Visual and Conceptual Aesthetics of Emerging Form
S.F. Gilbert, M. Faber. 6. Form and Function in the Molecularization of Biology
S. Sarkar. 7. Scientists' Aesthetic Preferences Among Theories: Conservative Factors in Revolutionary Crises
J.W. McAllister. 8. Objectivity: False Leads from T.S. Kuhn on the Role of the Aesthetic in the Science
J. Margolis. 9. Kant's Aesthetic-Expressive Vision of Mathematics
L. Chernyak, D. Kazhdan. 10. Physics as an Art: The German Tradition and the Symbolic Turn in Philosophy, History of Art and Natural Science in the 1920s
C. Chevalley. 11. Intersections of Art and Science to Create Aesthetic Perception
A.C. Faxon. 12. The Art of Displaying Science: Museum Exhibition
H. Hein. 13. From Descartes' Dream to Husserl's Nightmare
A.I. Tauber.