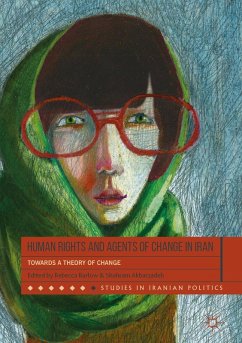 Andere Kunden interessierten sich
auch
für


Contributors to this volume investigate how structures, institutions, and agents in Iran maneuver for influence and power at the state level, through the law, in international corridors, at the grassroots, and by implementing multiple and complex methods. The chapters provide distinct but interrelated analysis of key drivers of change in Iran. A number of those operate primarily through top-down approaches, such as the political reform movement, lawyers pursuing legislative change, and international human rights monitoring bodies. Others take a bottom-up approach, including local movements and campaigns such as the women's movement, the labor movement, the student movement, and ethnic minority groups.

By prompting drivers of change to think about causation, influence, sequencing, prioritization, roles and relationships, a theory of change ultimately makes the work more effective. Through rigorous analysis of these issues for drivers of change in the Islamic State, this volume is an important contribution to human rights in Iran. In an era of escalating tensions in the Middle East, it amplifies voices of reform and freedom, filling a crucial gap in our understanding of this region.
Produktdetails
Studies in Iranian Politics
Artikelnr. des Verlages: 978-981-10-8823-0
1st ed. 2018
Erscheinungstermin: August 2018
Englisch
Abmessung: 216mm x 153mm x 18mm
Gewicht: 442g
ISBN-13: 9789811088230
ISBN-10: 9811088233
Artikelnr.: 50975204
1. Top-down or bottom-up? Towards a theory of change for human rights practice in Iran.2. The 'inside-track' approach to change in Iran under President Rouhani: The case of freedom on the internet.3.Indigenising 'modernisation' in Iran.4. Iranian lawyers for human rights: The Defenders of Human Rights Center.5. Is grassroots justice a viable alternative to impunity? The case of the Iran People's Tribunal.6. Secular and Islamic feminist work to increase parliamentary representation in Iran: Towards an alliance?.7. Struggles for revival: The Iranian student movement under the 'moderate' government (2013-2017).8.Environmental activism and social change in Iran.9. Ethnic minorities and the question of liberal multiculturalism in Iran.10. Intersecting issues and their implications for human right practice in Iran.