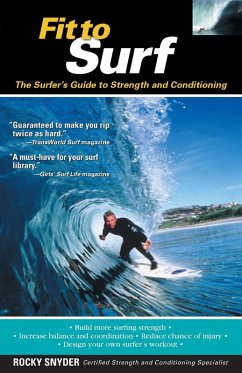 Fit to Surf
Broschiertes Buch
Sprache: Englisch
versandkostenfrei

innerhalb Deutschlands

EUR 12,95

Versandfertig in über 4 Wochen

Alle Preise inkl. MwSt.
Andere Kunden interessierten sich auch für
Fit to Surf
"Guaranteed to make you rip twice as hard."-- TransWorld Surf magazine
Stay out longer, catch more waves, and perform more demanding maneuvers
Whether you're a veteran surfer or just discovering the thrills of catching a big wave, this surfing-specific fitness guide helps you become a better, stronger, more agile surfer. Fit to Surf gives you everything you need to create a personal fitness program that builds strength and increases endurance, fine-tunes balance and coordination, and minimizes your risk of injury.
Renowned personal trainer and avid surfer Rocky Snyder presents easy-to-follow, step-by-step instructions for scores of illustrated exercises that you can perform at home, in the gym, or on the water. Complete with a muscle chart and a workout log you can use to organize your personal training program, Fit to Surf helps you improve your wave count, maintain a higher energy level, and master maneuvers that you thought were beyond your skills. It includes:

Flexibility training
Sun salutation warmup yoga poses
Strength training
Medicine ball and stability ball training
Skill transfer exercises
Endurance training
Surf team drills
Detailed sample workout programs
"An easy-to-follow guide."-- Longboard Magazine
"A must-have for your surf library."-- Girls' Surf Life magazine
Produktinformation
---
Verlag: Mcgraw-Hill Professional
2008
Ausstattung/Bilder: 2003. 160 S. w. 60 photos. 213.4 mm
Englisch
Abmessung: 374mm x 165mm x 10mm
Gewicht: 215g
ISBN-13: 9780071419536
ISBN-10: 0071419535
Best.Nr.: 21484773
Rocky Snyder is a certified strength and conditioning specialist and a certified personal trainer. He has been a professional fitness trainer for over ten years and an avid surfer and paddler for over twenty years. He is also the author of Fit to Paddle: The Paddler's Guide to Strength and Conditioning.
Foreword Acknowledgments Preface Introduction Chapter 1. Creating Your Program Chapter 2. Flexibility Training Chapter 3. Sun Salutation Chapter 4. Strength Training Chapter 5. Medicine Balls and Stability Balls Chapter 6. Skill Transfer Exercises Chapter 7. Endurance Training Chapter 8. Surf Team Drills Chapter 9. Sample Workout Programs Appendix 1. Exercises at a Glance Appendix 2. Workout Log Appendix 3. Muscle Chart Appendix 4. Resources Index