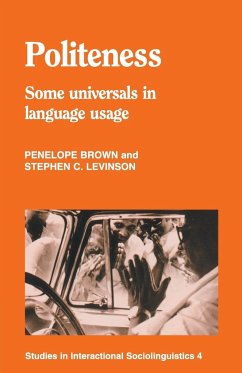 Politeness
Some Universals in Language Usage
Broschiertes Buch
Sprache: Englisch
versandkostenfrei

innerhalb Deutschlands

Sofort lieferbar

Alle Preise inkl. MwSt.
Andere Kunden interessierten sich auch für
Politeness
This study is about the principles for constructing polite speech. The core of it first appeared in Questions and Politeness, edited by Esther N. Goody (now out of print). It is here reissued with a new introduction which surveys the now considerable literature in linguistics, psychology and the social sciences that the original extended essay stimulated, and suggests new directions for research. The authors describe and account for some remarkable parallelisms in the linguistic construction of utterances with which people express themselves in different languages and cultures. A motive for these parallels is isolated - politeness, broadly defined to include both polite friendliness and polite formality - and a universal model is constructed outlining the abstract principles underlying polite usages. This is based on the detailed study of three unrelated languages and cultures: the Tamil of South India, the Tzeltal spoken by Mayan Indians in Chiapas, Mexico, and the English of the USA and England, supplemented by examples from other cultures. Underneath the apparent diversity of polite behaviour in different societies lie some general pan-human principles of social interaction, and the model of politeness provides a tool for analysing the quality of social relations in any society. This volume will be of special interest to students in linguistic pragmatics, sociolinguistics, applied linguistics, anthropology, and the sociology and social psychology of interaction.

Table of contents:
Symbols and abbreviations; Foreword John J. Gumperz; Introduction to the reissue; Notes; 1. Introduction; 2. Summarized argument; 3. The argument: intuitive bases and derivative definitions; 4. On the nature of the model; 5. Realizations of politeness strategies in language; 6. Derivative hypotheses; 7. Sociological implications; 8. Implications for language studies; 9. Conclusions; Notes; References; Author index; Subject index.
Produktinformation
---
Verlag: Cambridge University Press
1987
reissued ed.
Ausstattung/Bilder: reissued ed. 1987. 345 p.
Seitenzahl: 352
Studies in Interactional Sociolinguistics Vol.4
Englisch
Abmessung: 216mm x 141mm x 22mm
Gewicht: 491g
ISBN-13: 9780521313551
ISBN-10: 0521313554
Best.Nr.: 14998923
It has continued to inspire empirical work as 'the' source on politeness and, more generally, as an important exemplar in the study of the relationship between language and society. In addition, the broad scope of their treatment of these concerns has created a work in which many, if not most, of the assumptions guiding the contemporary study of language use are to found." Douglas G. Glick, Semiotica (1996)
Inhaltsangabe
Symbols and abbreviations
Foreword John J. Gumperz
Introduction to the reissue
Notes
1. Introduction
2. Summarized argument
3. The argument: intuitive bases and derivative definitions
4. On the nature of the model
5. Realizations of politeness strategies in language
6. Derivative hypotheses
7. Sociological implications
8. Implications for language studies
9. Conclusions
Notes
References
Author index
Subject index.